August 8, 2011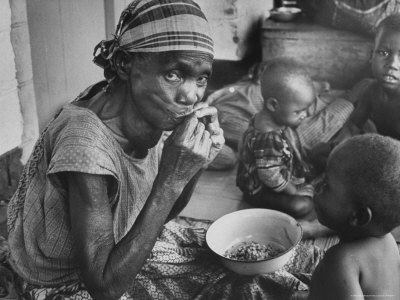 I was shopping with my eldest mini ninja, who is an inquisitive little thing; and checking out with a cart full of win. Ella (age 7) spies a magazine which she pulls out and begins thumbing through. I saw the LIFE logo on the front and didn't think anything of it until I realized it was the new publication 100 Photographs That Changed The World. Yeah. Quickly I grabbed the magazine and began explaining some of the pictures, passing over some of the others. Now I'm all for learning, but my daughter doesn't need to see a picture of a lynching … yet. Nightmares are not part of the status quo here. However, when she is old enough to understand you can bet your sweet bippy she'll see all that. It's a society uneducated that continues to make the same mistakes.
One picture impacted her greatly. A small hand that was literally skin and bones grasping on to a photographer's well-muscled and full-of-life, chubby-in-comparison, large hand. Eyes very wide she said… "Is that little hand gonna be okay?"  Of course I explained that the picture was from 1968 and that it was used to show people how important it is to help others.  She seemed satisfied with that answer and smiled sweetly. "I bet that man gave that baby some food. There is good stuff that happens."
My eyes glistened over with tears as I embraced her little compassionate self. There ARE good people in the world. There IS change happening. There is HOPE. Oftentimes there has to be something traumatic to bring it to focus. Courage, compassion, kindness are not as easy to see when everything is "happy" all the time.
How do I implement this in my life, home or work or parenting or otherwise? Hope, faith, trust, and resiliency are indispensable. It's so very easy to be discouraged. More normal to see the glass as half empty or too big or too small or too glassy or whatever… When it all comes down to the brass tacks, we have a decision to make.
Am I choosing to live and embrace my life even though it can be difficult and scary and overwhelming? Or is it easier to sit on the sidelines and blame everything and everyone else for the situation? Are my eyes open? Do I have compassion for my fellow man? Do I have HOPE for the future?
BE THE CHANGE. Yes it IS possible. History tells us so. For no matter where there is suffering, there are people with compassion wishing to make a difference. Now … the trick is to apply this to OUR own issues. How can you make a difference in your own life? How can you change your situation even though all the cards seemed stacked against you? (trust me. been there. more than once.)
You can overcome… anything. You have the tools. You have recovery. Do not be discouraged.
read more from Amy G. / SassySoberGirl / Editor type chick for Addiction Magazine at http://sassifiable.com