A Note from Anna
When the pandemic hit, millions of alcoholics scrambled to find a way to convene without being in the same room. In short, the entire recovery community caught up to where Kenny and RT were over a decade ago.
A word about these two: we first met when I was working at a brand-new start up recovery website called The Fix. When our original team started meeting up, we began to hear about this company out in Florida that was also launching a website for addicts. I was told that they were our competitors and that the way to handle them was to pretend they didn't exist and just hope we did a better job than they did.
Imagine my surprise when I received a warm and wonderful email from these two guys—who happened to be best friends in long-term sobriety with a vision of a world where alcoholics and addicts from anywhere in the world could log onto an online meeting and connect with their fellows.
This warm and wonderful email included an invitation for me to come sit at their table at a recovery event taking place in Los Angeles, where they were receiving an award.
I showed up and a friendship was born. They didn't see The Fix as competition; it didn't seem like the thought had even occurred to them. They saw something that the side I was coming from did not—there are enough pieces of the pie out there for all of us.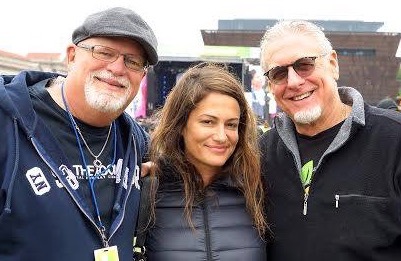 As an addict in long-term sobriety, there are a few things that save me every single day. One is a relationship with my Higher Power—a firm belief that I'm not in charge and that's good news because something much bigger and wiser than me is. Second is a community. Without my peeps, I'm left alone in my head and that is a dangerous place. And finally I need to share my story—whether that's in meetings, over Zoom or in my books.
Being able to do an event on In The Rooms encompasses all of those needs in one hour. I get to see my old pals, talk about how sharing my darkest moments has brought me the most relief and then let God do the rest.
This homecoming is all happening on Wednesday, August 26th at 9 pm EST. I'll be talking about my most recent book, Make Your Mess Your Memoir, providing feedback on any of your book ideas, giving away treats and even revealing all the secrets RT and Kenny have locked in their closets (okay, one of those isn't true). Can't wait to see you then!
-Anna