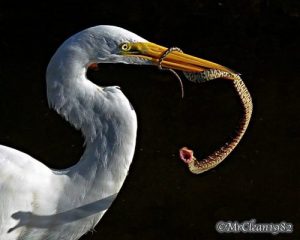 I've been a photographer since I was 11 years old. I had my own darkroom and loved everything about the hobby. As an adult, I worked as a Still Man for commercials and movies and shot tons of modeling composites. Once my addiction progressed, I neglected photography like I did everything else.
Fast forward to 10 years ago. My mother had just passed away from a very sudden illness and I went into a brief funk. I knew that I'd eventually get through it, but each day had an overwhelming sadness that permeated my existence.
My wife knew that a DSLR camera had caught my eye, but I felt that it was too much to spend on myself. She surprised me for our wedding anniversary and bought it for me. That camera changed my life. I started out by photographing the kids, and then landscapes of the Miami area…and then one day I went into the Everglades and I tried my hand at nature photography. From day one, I was hooked!
"I began to notice that a preternatural calm would take over my body, even on the drive there."
I started going out every weekend shooting nature pictures. I began to notice that a preternatural calm would take over my body, even on the drive there. My breathing would get slower and my mind clearer. I normally listen to classic rock very LOUDLY in the car, but when going in the Glades, I started listening to New Age, Classical or Meditation music. It all became part of my total experience. With 24 years clean, I started viewing Nature as my higher power.
So now it brings me to why I wrote this piece. About 5 years ago, I was driving down Snake Road in the Everglades. This road abuts the Miccosukee Indian village and is comprised mostly of farmland. There's a canal on both sides of the road where I often found deer, feral hogs, otters, raccoons and many birds and gators. It's a photo rich environment for those that are paying close attention.
On this particular morning, I drove through some fog as the sun was rising like a huge orange ball. There's a fence bordering the road the entire way and I'm looking to frame it in the sunrise shot. Then I spotted it. There was a giant spiderweb across the fence. Every crosshatch in the web had a tiny drop of dew on it. In the drop was a perfectly clear image of the sun coming up. It was gorgeous!
I immediately hopped out of my car and grabbed my camera and a tripod (because of the low light). I started clicking away and the shots were incredibly beautiful! Then, out of nowhere, a male great blue heron, in bright mating plumage, hopped up on a tree stump perfectly framed with the glowing spider web. It was an awesome image!
I grabbed a couple of shots, but the heron flew away. I was disappointed, but it came right back…and in its mouth was a large juvenile black banded water snake! So now, picture this! I have a gorgeous sunrise, captured in the spiderweb. Off to the left and perfectly framed is this colorful great blue heron with an equally colorful snake in his mouth! I took a couple of shots with my flash and everything came together perfectly! It was, without a doubt the best photograph that I've ever taken!
At noon, after my shoot, I had a "meetup" with about 20 of my photographer friends at a local deli. I should tell you at this point that all of these friends are better photographers than I. No false modesty, just a fact! Anyway, these guys all shot with very expensive, high-quality cameras. All of them owned Canons or Nikons and they were very opinionated as to which made the better camera. My wife bought me a Sony camera. I never really researched it….remember it was a surprise. My photographer buddies never missed an opportunity to make fun of my Sony. "Get a real camera Kenny" was a common tease thrown my way. It was good natured, all in fun, and yet deep down a resentment was forming.
The day of the "great blue heron spider web shot" I was in seventh heaven. I got the definitive Everglades shot. It had everything in it, beauty, color, and action. I couldn't wait to rub it in the faces of those smug Canon and Nikon owners. I had my laptop with me so I pulled off to the side of the road and downloaded the files from my storage card and headed towards the deli for lunch with my friends.
After the download, I deleted the images from the card and put the card back in my camera. When I got to the restaurant, I went to edit the pictures and at that moment I got a message: CORRUPTED FILES. There was nothing there….and I had already deleted the storage card. There was nothing….nothing to show them at all. I was so upset that I sat in my car in the parking lot and I felt like crying.
What came to me at that point was life changing.
I reflected on my mission at that lunch, to rub my fantastic photo in their faces. I was filled with ego, false pride, and resentments. I started to think about how lucky I was to even have the experience that I had that morning and to be grateful that I was able to appreciate the beauty in that moment. I was aware, from that time forward that I was in a sense, in a "partnership with my Higher Power every time I took a photograph in Nature.
It was a brief sharing of the moment. Anyway, that day, I told my friends at lunch what had happened. Their response was amazing. They had better equipment, but I was still getting some amazing shots. Some of them were even considering switching to a Sony!
So this brings me to yesterday when I was out in the Glades and getting some really nice shots when I came across this great white egret with a juvenile banded water snake in his mouth. I got the settings perfectly and even captured the shadow of the snake on the body of the bird. What a moment, what a shot! My first thought, though, this time….was how lucky I am, that my Higher Power allowed me to share in this beauty! I don't ever want to stop feeling the gratitude for this spiritual connection with Nature. Thanks for letting me share.