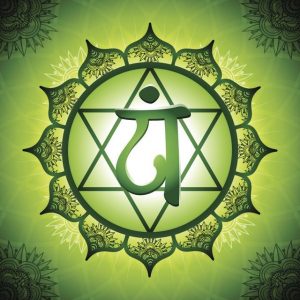 "Unhurt, unstruck, or unbeaten" – these are translations of the sanskrit word for the heart chakra.
If only our hearts were so pure, so unscathed by life and time as to be called "anahata". Unfortunately, at least for me, that has not been the case. All types of love: brotherly love, love of a child for a parent, a parent for a child and for a spouse to one another: I have hurt and been hurt by all of these. My heart has been struck. I have also hurt my own heart: with criticism, belittling, lack of faith and lack of fun. I am on the road of recovery. I am beginning to heal the wounds.
Bill W. has written articles for the Grapevine titled "The Language of The Heart." Annual recovery conferences have also used that name. That concept speaks to me; I am so attracted to that idea that the heart can speak and we can listen. In my ideal the heart speaks only love, compassion, forgiveness and kindness. In order to embrace these values the heart must have courage (be Lion-Hearted) and be willing to transform. I had to walk a path from cold hearted, closed hearted and mean hearted to embracing my natural true generous spirit.
In order to change I had to develop toughness of spirit. I needed to open my heart and learn to experience the pain of growth, walk through the difficulties of change. Change is uncomfortable, sometimes painful and my strength of heart must be ready for it.
In the language of Yoga the heart chakra gives us the capacity to love and to be loved, to hold forgiveness and compassion for self and others. The heart chakra is the bridge between the personal and the universal; the connection between our true self and all beings everywhere.
If the heart chakra is overactive you may experience codependent behavior (forgetting that boundaries are a form of love). You may not be able to discern the difference between other's problems and your own. You may become extra tender; sensitive to the world's problems to the extent that you endanger your own well-being. You may have difficulty sticking to things (hobbies, duties, a course of action) as your attention gets distracted by the needs and opinions of others.
When the heart chakra is underactive you may feel lonely or isolated. You may have trouble engaging in and maintaining healthy (give and take) relationships. You may find yourself being overly critical of yourself and others. Sometime it may manifest in selfishness and self-centeredness.
Taking care of yourself, listening to nice music, going outside or bringing plants inside and inhaling the aromas of lavender, rose, or jasmine. Surrounding yourself with various colors of green to stimulate chakra energy can help. Finally, affirmations said out loud or repeated internally like a mantra can balance the heart chakra.
I am worthy of love.
I love and accept myself just as I am.
I am open to love.
I am wanted and loved.
I forgive myself.
I live in balance; in a state of grace and gratefulness.
What better time to re-engage with your own heart than this month. While much of the media is concerned with the state of one another's heart, particularly with romantic love, you can start at the root, the base, the center of this compassionate and passionate center of love. Start here and start now.
Love-
Kyczy