If you're a singleton in captivity, this could be a hard time for you. 
As a Relationship & Recovery coach, it comes as no surprise that many of my clients are struggling with amplified feelings of solitude and detachment during this pandemic. It can be hard to face being alone right now.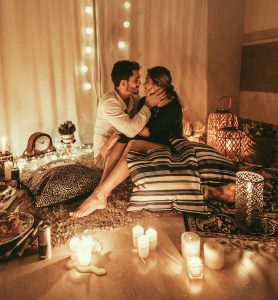 During isolation, we may feel a sense of abandonment that causes our thoughts to spiral: Why am I all alone, while others are posting photos snuggled up on the couch with their partners? I'll never find 'the one'. What about 'the one that got away'? Will I be alone forever!? It could even cause us to envy friends who are happily married and spending this time with their families. We may notice ourselves worrying about losing valuable time to find that right person to spend our lives with.
These are normal thoughts to have, since when we feel fear, we often turn to comparison.
All these negative thoughts and comparisons could trigger a crying jag—perhaps a desire to eat ice cream in abnormal quantities and watch Memoirs of a Geisha on repeat—not that I would know anything about that (wink wink).
But beyond this vicious cycle of compare and despair, there is a gift in this moment, if we're willing to look for it.
Turn the Challenge into Opportunity
If you're looking to date, what's stopping you? We all have one simple thing in common right now: coronavirus. So finding something to talk about with a stranger has never been easier! Most of us use dating apps to make connections anyway, so we can go about that in the same way we always would, sending a few messages back and forth on the app, then moving to texting, then a voice call, then a video chat. This is a chance not to rush that process.
The guidelines for dating have never been more obvious. In most parts of the world, meeting up in person is considered risky behavior, as governments encourage us to practice social distancing to protect our own health and the health of others. If someone suggests meeting up in person, we have the chance to practice boundaries in a very real way. How a person handles that says a lot about who we are, and whether or not another person's values align with our own.
If we are dating, the temptation to fast-forward, or to base our connection on physical chemistry, is removed. We have to find ways to connect emotionally, spiritually, or intellectually since we can't connect physically. For most of us, immediate gratification is off the table. This reveals intentions very quickly. If someone says they are interested, and would like to meet after the confinement is over, but they don't want to keep talking right now, what does that tell us? And if we ourselves are resisting dating right now, what are the fears driving that decision?
The Gift of the Moment
During the ten years I spent single, I hated it out loud for the majority of the time. I felt left out on most holidays, let alone during an indefinite hiatus where people were clinging to their loved ones for dear life. My friends posted photos of vacations with their partners and it just pissed me off—they had what I wanted so badly—what I thought was going to "complete" me.
But I had a teacher who told me, more than once: cherish this time—one day you will miss it. She was so right.
Now, I have a wonderful man in my life, who I'm very grateful for. But there is, of course, a lot of compromise. I don't get to choose a vacation destination without considering that he likes the beach (not my thing—I'd rather be in Dublin exploring the haunts of Dylan Thomas). I miss traveling all by myself to some new country on an epic adventure with nothing but my intuition to guide me. Eating out at the same "sticks and seeds" health food restaurant on the regular is out of the question. I see my friends and family less—a lot less, as it turns out, because I moved to Paris to be with him. I get less sleep because he wakes me up every day when he leaves for work. I miss going to see chick flicks by myself at the Arclight (now I see a lot more gangster movies and thrillers on Netflix). But I had ten years of that. Because someone brought my attention to it, I felt grateful for those moments even as I longed for something else.
So, I am passing on that wisdom here. Someday you will miss it. The quiet. The many choices. The endless hours with your friends. I would not trade one moment of it.
And the truth is, my partner does not complete me. I complete me. Those ten years completed me. Because that was when I had the time, unencumbered, to work on myself, and heal the childhood wounds that made me "incomplete." Thank god for those ten years. I would not have been ready for the love of my life if I hadn't been alone all that time with myself, learning to love me, so that I could love him without losing myself.
What to Do Now
What if you are becoming ready for a relationship? Why not use this time to create the foundation for the future partnership you want?
This could be an opportunity to establish deeper clarity around your patterns in relationships and determine what you need to address to move forward in a new way.
Write out a vision for what you want in the future. Finally make that list of all the things you're looking for in a partner. Then ask yourself, are you those things?
Now is a time to practice a high-level of self care and self validation. Remind yourself: You make sense. Your feelings are valid. You are enough. You are safe. You are loved. You belong.
Maybe this is a time to polish up your online dating profiles. Do some research. Take a better selfie. Once you have clarity around what you really want, have the courage to slow down when you do get back to online dating. You can't go out and meet anyone right now, so there's no rush.
This time could be a chance to watch the world go by as it is, to see what you really love, and to create more of that. And if what you want is love, give love to others. Write a letter to a friend, telling them why they are so special to you. Call that old aunt you never talk to, and ask her about her life.
Create love, and you will have love.