It's interesting that when I heard "easy does it" for the first time, it registered in my brain to mean – sit back and relax – there's no hurry! The denial ran deep in my unconscious giving me permission to indulge in procrastination. My problematic thinking stemmed from many years of misconceptions. I was my own worst enemy, either in overt retaliation or covert destruction. I didn't know I was stuck in a merry go round of self-deception. Anyone who tried to help me see the light, no matter how kind their approach couldn't penetrate my justification armour.
A wise woman once told me, when the intensity of my emotions were getting the best of me "Kathy – The Only Way to Change your behavior is to CHANGE your behavior". That was three years into my recovery. She literally took my breath away when she said it. What a huge changing moment in my life.
Undisciplined in many ways, it took a while for me to connect the action with the thought. Obviously the thought and realization was not enough. The action had to happen too. My mantra was I'll do it later – but later never came. Living with good intentions wasn't working, yet I couldn't see that my attitude was yielding nothing.
"Easy Does it… But Do it."  What does this really mean?  Learning that if I didn't change I may die, was a rude and loud awakening. Instead of an all or nothing approach, a balanced attitude and little acts of daily discipline brought results faster and more efficiently than I had ever imagined.
For me a holistic approach to my recovery has served me well. Feeding the body to honor the soul is the attitude I take towards myself and my clients. This powerful principle applied on a daily basis transforms how we view food in our lives.
While taking a step by step approach is best, we cannot afford to wait indefinitely. It's imperative that our responsibility and relationship with eating and feeding our body changes. However, I emphasise that small changes, built on over a few months, will work better than any quick fix or taking on too much too soon.
This time of year people foolishly spend big bucks on weight loss and detox programs, only to fall short of their intentions. Realistic expectations, one day at a time, offers change that works under all conditions.
So let's look at a few simple things that we can do to learn new ideas that will stick and encourage us to explore further.
Write it down: I've mentioned in past articles that keeping a food diary, even for a few days is helpful. People are often surprised by the amount and type of food they eat during the day. It is common to forget what we ate yesterday or the day before. Keep a note of how you felt physically and emotionally after you ate also. This makes us more aware of what foods work and don't work for us as individuals. It also shows us our unconscious eating habits – snacking on cookies or chocolate that we conveniently remove from our memory.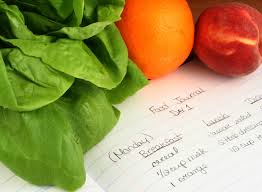 Taste does not mean nutritious: The word, essential, when referring to nutritional needs, means that the body cannot function correctly without them. Nutrients like minerals, amino acids and fatty acids must be ingested every day to ensure health. It is simple to add them once we become aware that we need to. We are what we eat. End of story. We get lost in the taste, smell and comfort of food which leads to the addictions and cravings for refined sugars and empty calories. Although many people carry extra weight around, it is still possible to be malnourished.
Balance is key: Keeping a balanced blood sugar level is extremely important. Fluctuating blood sugar can play havoc with our mood stability and energy levels. Slow release foods such as fruit and vegetables, whole grains and lean protein help to maintain balanced blood sugars. The hormone insulin is secreted by the pancreas when we eat. High sugar and processed foods raise our insulin requirement. The knock on effect of sustained high blood sugar leads to huge damage in the body and eventually the possible onset of type 2 diabetes.
Positive pre planning: Again, pre planning our meals is a vital tool for healthy meal choices. Nobody wants to eat foods that they do not enjoy, so find what you love and buy it fresh 3 or 4 days in advance. Very soon you will begin to feel and look better which will encourage you even more.
Make your own: Foods you prepare yourself are a great way to ensure you are not eating hidden sugar and other additives which deplete the body. We want to reduce our intake of refined sugars as they suppress the immune system and cause more inflammation in the body.
Here is a recipe for granola that I really enjoy and is simple to make:
½ cup of raw cashews (Good Fat and protein)
1 cup of a high protein cereal (Keeps you fuller longer with fiber and balances blood sugar)
½ cup of unsweetened shaved coconut (Low glycemic response)
¼ cup of dates (B vitamins, good source of fiber, rich in magnesium and potassium)
¼ cup of pumpkin seeds (healthy fat, rich in beta carotene, anti inflammatory benefits and high potassium levels).
1-2 tablespoons of local raw honey. (Local helps people with allergies and has anti-microbial and anti-inflammatory benefits).
Protein packs a punch: These protein snack options are quick and easy to prepare and will make you feel satisfied and keep your energy levels in check:
Hard boiled eggs
Organic almond butter or cashew butter with or without an all fruit jam on 1 slice of whole grain toast.
Hummus and veggie sticks, like carrot or celery
Mix it up: Variety is key to enjoying your new food habits and stop you turning back to your quick fix sugar highs. If you are feeling deprived you will give up so keep your palate happy by trying new things and finding what you love. There's no need to make complicated meals with lots of ingredients. Keep it simple and keep it fun.
What are you not getting in your diet that your body needs? You deserve to have a higher level of sustainable good health and I really hope that you give yourself the best possible chance at complete wellness in 2016. If you feel you need encouragement to keep moving in this direction, take advantage of my complimentary assessment on my website today.
Here's to your Health and Success in the New Year!
Disclaimer: These guidelines are suggestions only.  It is important to check with your medical provider before making any changes to your diet.