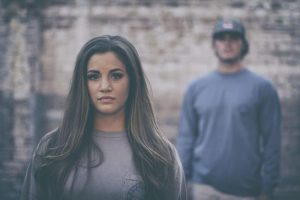 I have been through many a break up in my long life. I have been both the instigator and the one left behind. I have occasionally been part of a mutual decision to part ways.
In my younger day's most of the "dating" was done within the pack. We would pair up, be "the couple", then break up. There would be the clustering of sympathy- sides would be taken, blame would be imposed and then life would resume. The parties (both myself and the other person) would show up sometime later, could be days, could be weeks, with another member of our group: arms circling each other's waist, moony eyed and attached. Gut-punched or pleased, we would adapt and the churning would go on. A break-up, a re-attachment, the dance of love would continue. I learned the "it's not you it's me" phrase early on.
In my twenties, the breakups were more dynamic, more voluble and loud. Drama was expressed to a greater degree. The stakes were higher: someone had to move, kids were involved, new people who had been brought into the inner circle might be asked to leave, friends would be divvied up and the dance would start again. I was told, and I myself spoke the words "it's not you, it's me" numerous times over those years.
"I didn't know myself, nor how to express the self I knew."
In addiction recovery, relationships developed on "AA Campus." I handled them with an evolving level of skill. I began to learn my voice and how to navigate being part of a couple with more awareness. But I still did not know how to evolve in a relationship. My "Chooser" was broken. Until I had had several years of Adult Child of Alcoholics and AlAnon recovery under my belt I had no idea how to be authentic in a relationship. I didn't know myself, nor how to express the self I knew. The result was that in all of the breakups I assumed total responsibility for the faults and failures. I had started using the program of recovery (steps four through nine) to define my failings and assumed that the unacceptable was my own shortcoming. "It's not you it's me" had taken on a whole new level of significance.
I had looked at my defects of character and analyzed the failed relationship through that lens exclusively. I was too clingy and approval seeking. I was too independent and demanding. I went after what I wanted in life without consulting my partner; I couldn't make a decision and relied too much on my partner's opinion and guidance. I fought too much or I didn't stand up for myself. I accepted the burden of failure completely.
Over the years I have had fewer opportunities to consider using that phrase: I have a good long term relationship. We have disagreements and we have fights. We don't agree on several topics: some as basic as how to spend free time together and others as profound as how we deal financially with our kids and grandkids. But we discuss, we agree to disagree, we compromise. It is no longer a navigation based on an apparently constitutional difference or failing in one or the other of us. Differences are topics to be investigated, not avoided, and are not cause for breakup or separation. "It's you and me" is more the understanding.
"I am breaking up with me. I'm not giving myself the time to discover what the real disagreement is, what the real choices are, where the real pain is coming from."
The "It's not you, it's me" are the words designed to make a breakup easier – to salve a fight or disagreement. I did discover that ultimately, it was a way to nullify my own voice. It is disenfranchising, it deflects from further discussion, it proposes silence. It says "I will swallow my words, my point of view, my preferences. I will take it all on myself and absolve you of responsibility. Neither of us need to cooperate or change. We just go away."
In that moment, I am also abandoning myself. I am breaking up with me. I'm not giving myself the time to discover what the real disagreement is, what the real choices are, where the real pain is coming from. At that moment, when to ease the break up, I say "it's not you, it's me" I have really said that to my inner being. I have walked away from myself and have plugged my ears and heart to my own knowing. And in doing so, I have almost assured that I will be in this same situation again: different person, same unrest.
I learn nothing about myself or about you when I take it on the chin and walk away. I do not acknowledge my own truth, nor do I learn yours. I am not patient or brave and I let you get away with being impatient and cowardly. And when you accept this phrase; when you say "OK" and leave, you are doing these things, too. At that moment "It's not me, it's you"; you to me and me to myself.
In any of my relationships when they become difficult, be they romantic or platonic, I need to figure out why they aren't working and express that – and leave the platitude to the youngsters who don't yet know how to figure these things out. I am now embracing the "it's you and me" more fully.