It is beneficial to plan a detox to flush out unwanted toxins in our body accumulated from our addictive behaviors. When we cleanse our system it allows us to absorb more nutrition from the foods we eat, therefore improving our health overall.
For three days leading up to your detox diet, it is typically recommended to eliminate alcohol, sugar, dairy, wheat, artificial sweeteners, trans fats, and packaged, boxed, canned or fast foods.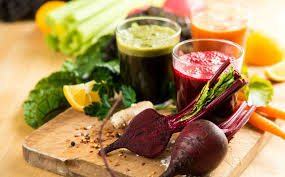 You may also want to take this time to rid your kitchen of any foods or beverages that might tempt you during your detox diet.
If you're unable to buy all organic produce, purchase a fruit and vegetable wash to help rid your produce of pesticide residues, waxes, and other undesirable chemicals. I recommend that this is a regular practice with fruits and vegetables whether you are detoxing or not.
Here is a sample menu for detoxing:
First thing in the morning, start by drinking a glass of lukewarm, filtered water with lemon.
BREAKFAST:
A typical breakfast consists of at least 50 percent fruit or vegetables (such as baked sweet potato or green vegetable juice). Ideas for breakfast include:
Smoothies (there's a recipe below)
Fresh berries or other fresh fruit
Gluten-free bread with avocado or raw nut butter
Gluten-free cooked cereals
Oatmeal (Not Instant)
Nut milk
Herbal tea, spice tea, or green or white tea
Here's some smoothie ideas:
Beet Carrot Apple and Ginger
1 large or 2 medium beets
2 large carrots
1 green apple
1 inch piece of ginger, peeled
1 tablespoon lemon juice
Green Drink
1 cup of spinach
2 celery stalks
1 cup of kale(approximately 3 leaves)
2 cups of romaine (approximately 3 leaves)
1 cucumber
1 green apple
1/2 lemon, peeled
SACKS:
It's important to eat regularly. This ensures that your blood sugar remains stable and lessens the risk of binging on foods that are high in sugar.
Snack ideas include:
10 to 15 raw almonds
Apple or pear, sliced, with 1 tablespoon raw almond butter
1 piece of fruit
Carrot, celery and/or cucumber sticks with hummus
Unsalted gluten-free crackers (such as rice crackers) with guacamole or hummus
Kale chips
LUNCH
A typical lunch on a detox diet consists of approximately 60 to 80 percent vegetables, preferably raw, or lightly steamed, such as greens, bell peppers, tomatoes, cucumbers, red onions, and hemp or chia seeds. The other 20 to 40 percent should be made up of other plant foods, such as cooked chickpeas, steamed broccoli, gluten-free grains such as rice or quinoa, baked sweet potato, or steamed fish.
A salad is an easy, packable detox lunch. Assemble a bowl or plate based on the ratios above. Make a simple dressing using 2 teaspoons of extra virgin olive oil, 2 teaspoons of fresh lemon juice, and an optional 1 teaspoon of fresh-chopped herbs.
Other lunch ideas include:
Chickpeas and vegetables seasoned with turmeric, ginger, and cumin.
Salad with choice of vegetables, such as arugula, cucumbers, onions, and steamed beets.
Lentil soup.
Kale salad with pine nuts and cranberries.
DINNER
Try for a dinner that is 60 to 80 percent vegetables also. An easy dinner is a Buddha bowl and can be made as follows:
Combine 1 cup of cooked brown rice or quinoa
1 to 2 teaspoons of an allowed oil such as extra-virgin olive oil
Vegetables such as spinach, kale, steamed broccoli, avocado
Beans and legumes such as chickpeas
Seeds and seasonings such as hemp, chia seeds and seaweed.
Other dinner ideas include:
Portobello mushroom cap, brushed with olive oil and baked or lightly sautéed.
Steamed kale sprinkled with pine nuts and tossed in lemon juice and olive oil.
Brown rice or quinoa.
Steamed salmon with fresh herbs and lemon with bok choy.
Vegetable curry with brown rice.
Broccoli soup.
Black bean salad with quinoa
Thai cashew vegetables with quinoa
A diet high in Trans Fatty Acids can interfere with the liver's ability to detoxify your body, which could impair your detox efforts. These acids hide in the tissue and creates toxins in the body, aside from the organ toxicity. It is nearly impossible to rid our body completely of all toxins during a cleanse. Each individual has their own experience and benefits.
I highly recommend Shaklee's "Liver Detox, probiotics, alfalfa, and garlic to take in conjunction with the detox diet. This will add to the clearing and cleansing to be the best it can be.  After the detox period is over it is a good time to introduce foods one at a time, into your diet, to see how your body reacts to them.  Please contact me through my website if interested in viewing or ordering the above products.
I can't stress enough the importance of water and hydration. While some have a hard time drinking water others love it and drink it often. Here are some tips to keep it healthy and interesting while doing something good for your body.
Adding cinnamon and apple will have a very beneficial effect on your body. Cinnamon will help stimulate your internal organs to cleanse themselves. The apple offers the natural source of vitamins and minerals and a helpful boost to any detox program.
Add tangerines for more citrus and sweetness, and cucumbers for added minerals.
Take a half an organic lemon and squeeze into an 8 oz glass of water and drink when first waking up. This is a time when you're most dehydrated. Lemon juice adds to the cleansing effect by clearing out the digestive system.
Add some mint for a fresh and crisp taste. Mint also goes nicely with a lemon and cucumber combination while providing additional nutrients.
Please note that when attempting any detox or lifestyle change you should see your doctor first.