Our mission is, and always has been, to offer online recovery meetings for when you can't meet in person. Really, all that's missing from this virtual version is some of that face-to-face human connection that you can't quite replicate through a screen, the folding chairs and the coffee. Your couch might be an obvious upgrade from those metal folding chairs, but who's brewing the coffee? Our new partner, Kahwa Coffee Roasting Company, has that covered.
Get to Know Kahwa Coffee
Meet Kahwa Coffee Roasting Company. They're the largest independent coffee roaster in the state of Florida, and the new official coffee brand of In The Rooms. Kahwa's reputation is built on the quality and consistency of the product. They use 100% premium quality Arabica beans, selected from different origins around the world. By blending and skillfully roasting these beans, the roasters produce a complex flavor that allows each origin to yield its most distinct palate. Kahwa roasts and packages each blend on demand, to guarantee quality and freshness.
Why We Love Them
Small Beginnings and Big Dreams
Soon after moving to Philadelphia to finish his marketing degree at Temple University, Raphael Perrier started his first job as a barista in a local coffee shop. There, he met his wife, Sarah, a frequent visitor of the cafe. The two eventually decided to move south to St. Petersburg, Florida, where they noticed a lack of coffee shops in the vicinity. That's when the couple decided to begin their own venture, starting Kahwa back in 2006.
Since then, the Perriers' constant desire to grow and advance propelled the business forward, building it into the successful wholesale and retail coffee company that it is today. Now, Kahwa has fifteen retail locations, and more in the works. Their coffee can be found on the shelves of over 800 retailers, and in Publix, the Tampa Convention Center, and beyond. And luckily, you don't have to be in the state of Florida to enjoy their coffee—Kahwa products can be delivered to your door.
Community and Giving Back
Kahwa not only aims for quality and consistency in their product, but also aims to build community and give back. In their coffee shops, the customers know the baristas by name, and can expect exceptional service in every visit. Their cafes serve as community meeting spaces, where people can gather and socialize over a cup of coffee. But the sentiment of community and togetherness extends beyond the storefront. Kahwa regularly donates to local charities throughout the year, and has recently begun an initiative to support the National Pediatric Cancer Foundation.
Delicious Coffee to Match Your Personal Tastes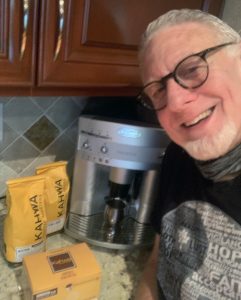 Of course, we also like Kahwa simply because their coffee tastes amazing. Just ask our co-founder, RT, who has already stocked up! Kahwa offers many different signature blends, from their popular medium dark roast Sirocco, to their subtle-bodied Boreas blend with hints of hazelnut. You can purchase by the bag, in the form of coffee pods, or as K-cups, so it's easy to brew a cup at home, no matter how you make your coffee. So while you're waiting for your next meeting to start, go brew yourself a cup of Kahwa coffee!
In The Rooms members get 20% off their first purchase! Use the code ROOMS at checkout to get the discount.