In 2019 the Voices Project launched a convening for recovery advocates and leaders called Mobilize Recovery. It was one of one hundred projects worldwide selected as a part of Facebook's Community Leadership Project initiative. The proposal to Facebook was to convene this training and action-oriented event to give communities the tools they need to go out and combat the addiction crisis.  The July 11th and 12th convening was a virtual "who's who" in recovery community leadership and also raised a curtain on the action steps that involve big tech and social media. This is the first time this has happened and with Facebook's support represented a major turning point in the nation's approach to combatting the addiction crisis.
Mobilizing Recovery
Hundreds of Grassroots advocacy groups and individuals from around the country applied. Selection was based on their demonstrated record of successful outcomes combatting addiction and supporting recovery. The conference brought in recovery advocates in all 50 states plus Puerto Rico & D.C. Each of the selected community organizers have lived experience with substance use disorders.
I lost my son to an overdose in 2017, he had bipolar disorder and suffered greatly during his last few years of life. After Sean died, I struggled. Part of my recovery included getting more education and becoming an addiction medicine physician at our local syringe exchange. I was so overwhelmed with education and support at Mobilize Recovery. I felt energized to keep on working to advocate for those we love. I believe we change the perception of substance use and improve medical care for those that need it. – Kimberly B.
Mobilize 2020 – Going Virtual
Last year, in the midst of the COVID-19 pandemic, the second Mobilize Recovery convening took place. Due to the COVID-19 pandemic, the national advocacy event was hosted virtually by the Recovery Advocacy Project and the Voices Project, making it the largest and most accessible training to date. The event included a star-studded lineup of speakers such as Elton John, Macklemore, former U.S. Representative Patrick J. Kennedy, former Speaker of the House Newt Gingrich, and President Bill Clinton. They spoke about their personal experiences with recovery and why they remain passionate about policy change that saves lives, creates infrastructure, and eliminates the stigma of addiction.
More than 300 people attended Mobilize, connected with one another, and added to their advocacy toolboxes. Although the event was virtual, the excitement and enthusiasm were palpable. Mobilize Recovery 2020 succeeded in bringing many people together on one platform and uplifting the recovery advocacy community, while training the next generation of advocates and leaders. 
Inclusivity and mutual support.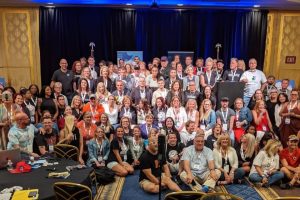 Inclusivity and mutual support were major themes, with special breakout sessions and panels specifically addressing racial justice, dismantling white supremacy, LGBTQ-specific recovery needs, and more. Mobilize Recovery worked to center marginalized voices from many communities. Those included were Native and Indigenous communities; Black and African-American communities; LGBTQ communities; Latinx communities; faith leadership; and a wide range of recovery pathways. Participants learned to challenge their prejudices and preconceived notions in training that addressed privilege, as they apply to recovery advocacy.
Mobilize Recovery is Special to Me because I can Connect with other Peers, Allies, & Advocates in Recovery. I can learn about different Topics/Subjects in Recovery that Effect/Affect all Peers & Communities and this helps Me Serve better as a Peer. Part of keeping Me grounded in life is to be supported as a Peer & Mobilize Recovery is one of My Support Systems. – Cherokee R
Leaders needed. 
Mobilize Recovery is back and ready to reach even more emerging leaders. People in recovery, harm reductionists, families and allies impacted by substance use are encouraged to apply. Basically, anyone who wants to make a difference in their community on drug policy and recovery advocacy will get something from the Mobilize Recovery experience. What is it you get from attending? You will learn the tools to make sustainable, real change in your community; connect with emerging leaders from across the country; and develop a plan of action to inspire recovery and end the preventable addiction crisis in America.
Mobilize recovery is the most special conference and convening in our industry. It is relevant, well-informed, and presents the real situations and needed conversations for advocacy in our field. – Dani T.
A modern-day crisis.
We know addiction is a crisis of epidemic proportions and shows no sign of slowing down.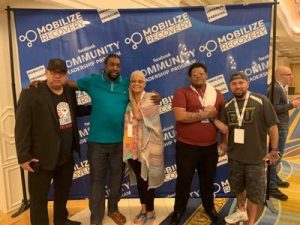 It affects people of every race, class, social group, religion, and gender. It does not discriminate. Without civic engagement, organization, and recovery advocacy, millions of people will never access the life-saving support they need. Currently, less than 10 percent of people will ever seek medical help of any kind for their addiction. When the recovery community organizes, reform is possible. Leaders who have attended Mobilize Recovery have successfully accessed funding for recovery supports, effective and ethical standards for treatment, and changes to employment processes. When recovery speaks, people listen. 
Applications for Mobilize Recovery are now open at www.mobilizerecovery.org
What past participants have said.
Mobilize Recovery was an amazing experience even through Zoom. I loved learning more about what other Advocates are doing across the country. I'm grateful to have had the amazing experience. 
I'm currently one of the State Leads and going through the first leadership academy training. There are 30 of us. It's the outgrowth and ongoing educational programs from Mobilize Recovery. Truly an excellent experience for personal growth and connections. I hope together we can eliminate the stigmas of addiction and move forward with SUDs being treated as a medical condition to prevent the losses of life. 
I have hope because of the opportunities through Mobilize Recovery. 
I can never bring back my daughter Megan who died 6 years ago from a heroin overdose. The connections and support from this community are empowering and inspire me to bring that hope to other families who have lost their children to the disease of addiction. I am often called for resources to assist families who are trying to prevent their children from dying.
Thanks to Ryan Hampton and his team of dedicated people who are a powerful force for changing the trajectory of this disease and how it is treated. 
Bev K.M.
This conference is jam packed with valuable tools, resources, and information to bring home to our communities. The team at Recovery Friendly Workplace PA has attended virtually the last 2 years and looks forward to attending again in 2021!
Kathleen S
In November of 2020 I lost my sister to addiction and now belong to the club that I wish never existed. Millions of people from all parts of the US know what it feels like to lose someone they love to this devastating disease. There is HOPE and there are solutions and that is why I support Mobilize Recovery and the Recovery Advocacy Project. Thank you, Ryan, Garrett, Sean, Aaron and the entire #RAP team for everything you're doing to help US put a stop to these 💯 preventable and senseless deaths. #AddictionCrisis #MobilizeRecovery #MobilizeRecovery2021 #RecoveryWorks #JoinTheMovement #TogetherWeAreStronger – Randy A.
This content is not original to InTheRooms.com and has appeared on other websites.