Each month, In the Rooms and Seeking Integrity Treatment Centers present an online Super Saturday Recovery Summit. These events have proven to be an overwhelming success, with three experts on recovery discussing and answering questions on topics related to both early and longer-term sobriety and healing.
Our next Super Saturday Recovery Summit is set for Saturday, August 15th. Presenters at this month's summit include Kelley Gunter, Troy Love, and Dr. Jamie Marich.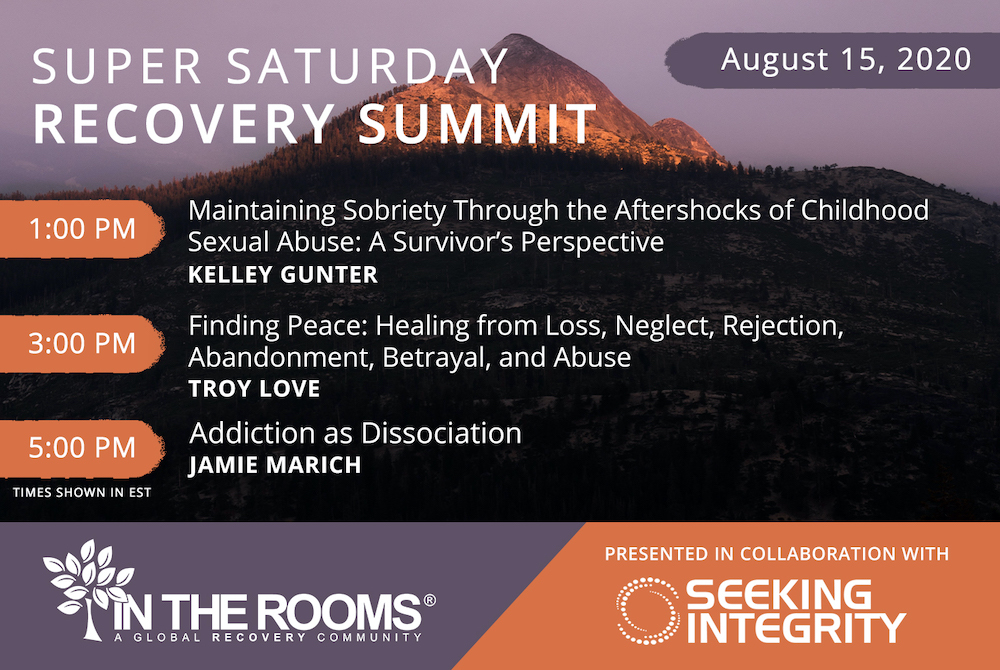 Kelley Gunter — M

aintaining Sobriety Through the Aftershocks of Childhood Sexual Abuse: A Survivor's Perspective
1 P.M. Eastern
Kelley Gunter has a bachelor's degree in sociology and a master's degree in counseling. Following a lengthy career in social services, she began writing full-time. Her first book, You Have Such a Pretty Face, details the emotional journey of being obese and the surprising changes brought on by her 243-pound weight loss, as well as the emotional factors (including childhood abuse) that contributed to her initial weight gain. She is currently in the process of writing her second memoir, The Homecoming Queen of Crazy Town. In this Super Saturday session, Kelley will discuss how sexual abuse survivors can best navigate sobriety and recovery.
Troy Love — Finding Peace: Healing from Loss, Neglect, Rejection, Abandonment, Betrayal, and Abuse
3 P.M. Eastern
Troy Love is President and Clinical Director of Yuma Counseling Services and founder of Finding Peace Consulting. He is on a quest to help individuals, couples, and organizations find greater peace, joy, happiness, and success. Troy specializes in working with trauma-related concerns, healing damaged relationships, and overcoming the need/desire to self-medicate emotional pain through addictive substances and behaviors. He is the Amazon Best-Selling author of Finding Peace, The Art of Peace, and A Year of Self-Love. In this Super Saturday session, Troy continues his presentation from last month's Summit by examining the voices of shame.
Dr. Jamie Marich — Addiction as Dissociation
5 P.M. Eastern
Dr. Jamie Marich describes herself as a facilitator of transformative experiences. She is a clinical trauma specialist and recovery advocate. She is author of the acclaimed book, Trauma and the Twelve Steps, and it is this work that forms the basis for her Super Saturday presentation. Dr. Marich travels internationally teaching on topics related to trauma, EMDR therapy, expressive arts, mindfulness, and yoga, while maintaining a private practice in her home base of Warren, OH. She is the founder of the Institute for Creative Mindfulness.
---
Join us on Saturday to hear from these recovery experts! If you aren't yet an In The Rooms member, simply sign up for a free account to join the Summit. If you're already a member, just enter the meeting clubhouse when the event begins. See you there!