I will never forget the first time I heard the phrase Surrender to Win. It was shared at one of the 12 step meetings I attended in early recovery. It's a very powerful statement….but what does it mean?
I give up? I'm a loser? My life is just over? I am a failure? Instead of looking at everything that way, I had my very first spiritual awakening. My first real perspective shift, and the earth moved under my feet.
I can win if I Surrender? In this admission I finally understood that it was ok to need and ask for help. Surrender has never come easy to me, by any means. However, once the admission came through this strong willed and deeply convicted mindset, a spark ignited, and my mind opened.
Surrendering this white flag from self-righteousness to humility was my invitation to enter the world of the Spirit. But how many people think of food as feeding our spirits?
Thinking along spiritual lines, holistic living is not just taking vitamins or just practicing the many types of meditations available today. Becoming one with ourselves and the attempt to quiet down the mind from its busy activity, is an age old practice.
The food choices we make can interfere with these practices. Empty calories deplete our needs physically, and these inadequate levels of nutrition interferes with our obtaining goals.
We need to understand the threefold treatment in recovery; Mind,(mental and emotional) Body (Physical) and Spirit (learning to live our truth), for holistic health.
Back in the early days, food was less contaminated with additives; dyes, fillers, binders, sugar substitutes, and various preservatives they use today. Years of buildup of these negative chemicals, places the body in a constant defense mode and our Immune System, which is our backbone for good health, starts to weaken.
Disease states are often caused and or complicated by these negative chemical invaders. This combined with lack of nutrient dense foods is a set up for health problems. The body needs an intervention, much like when we enter our journey in Recovery.
We need to eat foods to nourish our body, and still enjoy foods that may not be the best for us, but in moderation can absolutely be pleasing the palate without ill health. Again, the concerns come from the lack of what we don't get.
The struggle of resistance is only in thought, yet with this energy of a clenched fist, we block off so much of what is offered in our healing process. Once we decide, opening to a more nurturing attitude, everything shifts and our physical recovery truly begins.In time, we learn to relax and enjoy the process.
Plan ahead, and see if you can get the family involved. It helps to keep everyone accountable to little acts of daily discipline for a happier healthier home. If you are living alone the motivation can be harder, especially if you deal with depression.
Have compassion for yourself and learn to love your body. It needs your help. No matter where you are physically you can help your body to heal. All it takes is a decision to meet yourself where you are and move forward, one step at a time.
Foods grown closest to mother earth are what our very human nature thrives on. With fast moving lifestyles and our world catering to instant gratification, it's so easy to take shortcuts.
Buying ready prepared meals or stopping at the many drive-thrus are so tempting when we are really busy. Planning ahead will help make change and sustainability possible.
With the mindset of curiosity we can honor nature's intentions. As people in recovery, starting to tune in to a new perspective that physical changes can and will happen is a new fork in the road.
Here are some things to help shift the mindset
Cooking together is fun and keeping everyone involved is a good way to help the family stay on track. Each member can pick the meal of the week that appeals to them.
Read something about feeding the body daily. Whether it's an affirmation you write or books you have around or online. Become familiar with the subject to re-educate your mind.
In Meditation, as you are more still, use a mantra that speaks to the spirit like "I Feed my Body to Honor my Soul."
Look for friends that are on this path of healing with wholesome foods.
Remain mindful and Pay Attention to the details of the foods that give you life.
Here is a great recipe for the fall and winter months.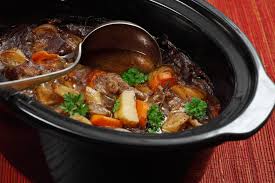 Crock pots are a great way to prepare a meal. If you try it I would love to hear how it went
Ingredients:
Organic Beef Stew/Soup Crock Pot Cooking or 3 hour simmer
2 small bay Leafs
2 Medium organic carrots
½ celery stalk with leaves on
1 Medium sweet onion
1 stem of fresh parsley
½ t of dried thyme leaves
1 t of dry mustard
2 T of Himalayan salt
¼ c  fresh brick grated Parmesan Cheese
½ c of wild rice
1 liters of organic low sodium beef stock
1 package of stew meat
Your favorite herbs
Pulling it all together:
Add olive oil to the bottom of a large pot ~ just cover the base.
Heat on low to medium heat for about 2- 3 minutes.
Coat meat with some all purpose flour tossed in a mixing bowl or shake in bag.
Add floured meat to pot lightly toss and brown.
Add all the seasonings next and stir into pot with meat coating really well.
Then add diced carrots, celery, onion and beef stock.
Add Parmesan Cheese on top and let it melt into mixture.
Simmer down to low and cook 3 hours stirring frequently.
Crock Pot Choice
Prepare the night before.
Add everything to pot and let it simmer on low all day.
Come home to a cooked meal that fills the home with amazing aroma and an easy stress free meal.
If you are looking for the most comprehensive personalized plan and want to feel better in 30 days, I encourage you to take this opportunity to go to my website and sign in for a Complimentary Nutritional Assessment. As I coach others, we design a tailor made, simple plan for you to follow. Together we can get excited about your life and watch where your body wants to take you. Shifting from powerlessness to empowerment opens the secret to your physical part of recovery that offers Soul-Full transformation!
Disclaimer: The information above is meant to be suggestive only. It is recommended to consult with your primary care doctor before making any changes to your diet.