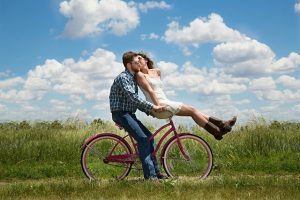 If you remember the famous Tina Turner song, you remember the refrain: "What's love but a second hand emotion." That is the way it used to be. I loved you if my needs, thrills, cravings, or wants were being met. I didn't see YOU, I saw my desires. I was loving the "if…then" experience, not the person.
The second side to that was: "I loved me if you loved me." I was not able to see me as a whole being in and of myself. I was lovable or acceptable if you saw me so; I was good if I was productive and did good things, I was bad if I was idle or when I did badly or poorly. It was all out there and not in here, in the heart of me. The way I didn't see into the heart of "him" (except when defending or justifying a bad relationship… then I would profess to the eternal goodness in "him" while relating the dangerous and painful things he did) I didn't see into the heart of me.
It was a confusing life based on illusion and storytelling. It fit perfectly into my active addiction. The bad new was that I was still mired in these habits of behavior for several years into recovery; it was harder to weed out how relationship addiction was harming me than it was to see what drugs and alcohol had been doing. There was also a great deal of shame around being in harmful relationships when I was working so hard in recovery. I felt that it meant that I was not doing "recovery" right. More shame. I tolerated those relationships until I hit bottom there. The story of those experiences is painful and shared mostly one to one. As in my last day of using and drinking there came a day when I knew I could not "do this" anymore. I needed to find another way to love.
It took a long time. It took some stumbles. I had to let go of the song; that love was a second hand emotion. It could no longer be my anthem. I could no longer look at love as a trade; a "if this…then that" equation. And it was pointed out to me by my long suffering therapist, that change had to come from the inside out. I had to learn to love myself.
In the beginning loving myself came in the form of affirmations read and spoken, goofy signs I would pin up at home, and the regular repetition of the need to love myself when speaking at meetings or with my sponsor. It was true, but it was in my head. I didn't feel it. The idea had not even approached my heart, it was something I "should" do. I should love myself. It was part of my recovery. And I was going to be a Very Good Person in Recovery. Then you would like me. (See how twisted I could get?)
Eventually though even that, the pretending, wore thin. Because the experience of self love was not yet authentic it didn't hold fast in times of stress or challenge. But I continued to practice. In yoga we say "practice practice – all is coming." I had no idea how important that practice would be. It prepared me for the possibility of healthy love.
Love As A First Hand Emotion
Fast forward several years. I continued to do esteemable acts, I was a fierce protector of my children, their health and safety. I advanced in my professional abilities and kept us afloat financially. And I met a guy. He was totally unlike anyone else I had been with before (I was going to type "dated", but I never dated – I cleaved. So this was already different. We dated. We talked, we went for drives, and yes, we got intimate. He was not profuse in his attention, but he was steadfast.
From the beginning I realized that there was nothing I needed to DO to get him to like me or to love me. He would or he wouldn't. He was a man with boundaries and with kindness. He also wore a suit to work (my first "suit"), he was a professional, and he scared the shit out of me. It was clear that my previous manipulative behavior or my wheedling for compliments was not going to work. I was going to have to be clear about what I wanted and needed, and I was going to have to grow into the self sufficiency of self regard. If I wanted to feel good, I was going to need to learn to find this within myself. I was going to have to rely on myself to discover that I needed affirmation, and then to supply it on my own. I needed to develop emotional self reliance. This was not the self reliance of self support in financial ways, skills in home repair, or other practical way – but finding myself, my center and my truth and living by it. He was not going to give it to me. He was not going to boss, criticize, or manipulate me into being someone he wanted me to be. He is a "what you see is what you get" (WYSIWYG) kind of guy and he expected me to be a WYSIWYG person as well. What an awakening! This was not the kind of relationship I had been used to. I had to grow up.
And I did. A lot. We married, we worked on combining our families of teenage kids, they grew, left home and we relocated for our jobs. And I bottomed out again. I had developed another addiction (work) and had lost my self. Work had stepped in to do what those previous relationships had done – my job affirmed and defined me. I had totally relapsed and no longer found value in my being beyond their approval. While I had done a lot of healing and growth in my relationship, I had not healed some of the innermost basic issues. They popped up again in a different form.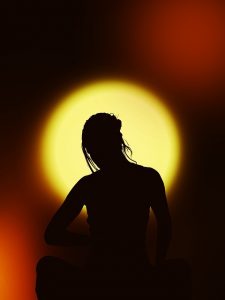 Recovery Through Yoga
I told you all of that to tell you this; yoga has introduced me to myself in a deep, abiding and authentic way. When I was relapsing into work addiction yoga saved me. It got deep into my physical body to release many of the traumas that were still stuck, the ones that had drawn me back into the avoidance and isolation that drug addiction had previously provided. When the emotional pain of being successful, and useful, and desireable became too much because the voices deep inside were still telling me I was unworthy, when achievement bounced into the walls of guilt and shame that had been drilled into me in previous relationships and active addiction, when the self talk of doom and gloom were no longer able to be silenced through doing Ddong doing, I fell apart. I was in danger of drinking and I found yoga.
What was different about yoga? Why didn't I find this nourishment from running or going to the gym? Because in running or aerobics, or lifting I was always trying to get better, be stronger, do more. I was never enough. The difference was my yoga teacher; she kept telling me to be the shape I was in, to experience the pose from the inside out, to breathe and be in this moment, that I was perfect just as I was. I cried. I believed her. I moved from awkward pose to awkward pose doing what I could and being present. I learned to be content, to balance the idea of mastery of my breath and turbulent thoughts with finding peace in the challenge of holding any pose. I was discovering the gift of yoga – to practice stilling the fluctuations of the mind. All of this while I repeated the practice of embodying the concept that I am good just as I am. Comparison will steal my joy. Work within my capacity. Be where I am as I am. I was finding peace.
Meditation in a true sense came from this practice. I began my ability to identify the negative talk and still it with kindness rather than force or complaint. That in itself cut the negative mind chatter in half! Lovingly set aside the cruel thoughts rather than flagellating myself for having them again. This started on the mat and found itself into my meditation, then into my days. Be kind. Be sweet. Love the girl you were, the young woman who was in so much pain, love the woman in early recovery, love yourself today.
All of this is a very long story on how I was able to change the second hand emotion of love and acceptance from another person for doing or being a certain way- into the authentic first person, first emotion of self love. It wasn't easy and it didn't come from criticism. It came from acceptance and tenderness. It came through my body and my unwieldy and unskilled physical practice. In time that was able to wring out some of the long ago pain, and moved into a practice of filling out the space I was in, in my heart. Yoga has everything to do with self love – one breath at a time, opening to the gifts of the pose you are in now.