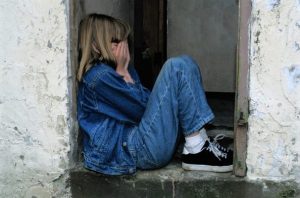 It happened again!
The perpetual cycle of me allowing my mother to get close to me, then tearing me apart, me forgiving and learning to trust her again….and round and round we go.
To say it's exhausting and degrading and soul destroying is quite the understatement. And to allow myself to stay in this cycle is even more soul destroying. I've worked far too hard and far too deeply on myself to be okay with continuing to be part of my own systematic abuse. So, I've decided once and for all to support myself fully, stop denying what is happening and detach from my family.
I come from a dysfunctional home (who doesn't?) where my father drank and womanised all his life. My mother tried to cover it up and put on a show for the rest of the world and was enabled to do so by her own family….because scandal wasn't allowed. She's still doing a terrific job at it. Meanwhile, he also sexually, verbally and physically abused me. I never told anyone about the sexual abuse until I came into recovery some years ago. The physical and verbal was there for all to see.
I've lived with the consequences of his actions all my life. Anyone in the same position will know what those consequences are. For me it started off with chronic illness from a very young age. It then turned into complete self-hate, eating disorders, addiction, mental illness, promiscuity, a violent and abusive marriage, other violent relationships and other sexual assaults……I could go on and on.
It is my understanding, that because of my brokenness, I was conveniently used as the scapegoat for everything that ever went wrong within the family unit. I've had a shit storm thrown at me. I've been told I ruined the family, I was responsible when my younger brother was having a rough time with his mental health, I was beaten by my mother in my own home after coming out of a mental hospital because, again, I was causing a scandal. My fathers consistent abuse and neglect never came into it. Everything was and still is, my fault.
So, I decided last year to tell my mother about my fathers sexual abuse towards me. I thought, perhaps it would help her understand my difficulties, why I keep my distance, why I don't trust, why I have little or no feeling for my father. Maybe it will make her stop constantly rejecting me and acknowledge how horrible our home was when I was growing up. Maybe she will see, that I was trying to protect her and my other siblings by not saying anything, so they could live in some sort of peace. I hid it so they didn't have to have their lives further torn apart and be hit with more trauma.
But that didn't happen. Her reaction when I finally managed to drag the words up out of me was, "well I always knew something wasn't right between you two." That hit me like a tonne of bricks. She knew something wasn't right but didn't investigate it? What did that mean? Was covering up more important than her childs welfare? All these years she had some idea of why I struggled every single day and yet she still punished me? I received special attention for about three weeks after I told her. And that was it. It was never discussed again. And by special attention I mean, she called me every day.
I'd been in therapy for years and I spoke about what happened to me but I had never really consciously thought about my mothers part in it. I used to feel this awful guilt that she was stuck in a marriage with this awful man and had to marry him because she was pregnant with me. I wanted better for her. I tried to be a good daughter, a good big sister, protect everyone. But now all these other thoughts regarding the dynamics of our family were rushing through my mind. Unconsciously though, I was aware where my mother had failed me, but it was too much for me to allow myself to accept it. I felt it rather than knew it logically.
I had, as a child, been very aware of the unspoken rules of silence in the home and I have subsequently learned that it happens in most if not all homes where dysfunction reigns. There were many times too, when the rules were very loudly spoken. I remember being told to keep my mouth shut about what went on in our house and feeling shamed because I knew our family was not like others.
Now I had to let the reality set in. I had to acknowledge the iron fist control of my mother. Her compliance in my fathers' abusive behavour in the house and towards me. Her contempt and rejection of me all my life. Her protection and adoration for my father regardless of what he did to me would never dwindle.
As a grown woman with children of my own, who has educated herself, and has a great understanding of the results of trauma, I still could not process the fact that she knew, even if she was only half admitting it. It all made sense now. I couldn't deny any longer that her own flesh and blood was less important than her husband and how society saw her.
My father had a stroke about twelve years ago and was left semi-invalid. She cares for him like a baby and always has even before he got sick. Her concern for him is priority. Since I told her about the sexual abuse it's made things much worse for me. I used to go visit her at her house where she lives with my father, and be able to pretend I was ok. Now I can't because she knows. It makes it worse because she knows and pretends nothing ever happened. It's like his illness is protecting her and absolving him for any wrong doing.
And again, I'm left outside on the periphery of the family. Standing there waiting to be acknowledged, validated, enveloped by love and supported. Now I know it will never happen.
She let me know how she felt about me yesterday. My mother, my sister and I were having coffee and talking about general stuff. My uncle died this week from drug and alcohol abuse. He lives in another country and it's rough to say the least, being so far away. I got the distinct impression that nobody wanted to talk about it, so neither did I. But that's how our family has always been. Important stuff will not get addressed.
She asked me if I had any other news, and I told her that I'd taken my new neighbour and her children, who was being beaten and threatened by her partner, to a safe house until she could get home to her mother. I told her I felt angry and a little scared living beside someone like that, and I wanted to move.
Immediately her mood changed. She told me that there was always some issue with me, that I'm always full of anger and that she was sick of having to deal with me. I am a constant problem and nobody can have any peace when I'm around.
Finally, after a lifetime of this, the acceptance dripped like molten steel into my heart. This woman felt nothing but contempt for me. She barely tolerated me, and even that tolerance was cosmetic. My membership of my family was dynamically created as the scapegoat.
I have turned mine and my childrens lives around. We live a happy, productive life. I have taken full responsibility for my own life and healing it and making it better. I left an abusive marriage. I dealt with my drug and alcohol addiction. I have tried to deal with my abuse with extensive therapy. My children have had extensive therapy and are thriving. I have a career. I'm in school and have dreams and goals for the future.
Yet this constant feeling of inadequacy, guilt, shame and anxiety overshadows all of that progress. Why? Because I've been waiting for my mother to show up for me. Now I know my waiting is in vain.
Still, I try to understand and have compassion because I don't know how else to be. Right after this happened yesterday an article came up on my news feed from Dawn Clancy at Growing Up Chaotic that helped soften the blow a little bit. It gives some reasons as to why family members ignore abuse even when they know it's happening.
Detaching and letting go is the last option I have. I feel that old familiar rawness inside me of devestation and isolation. I'm struggling hard to not feel completely insignificant and there's a strong desire to conform to her every whim so I can be accepted. I realize the old feelings of childhood have been triggered. I'm not a child anymore. I have to make things right for me.
It's time to now go it alone and leave the dysfunction behind. I'll let you know how it turns out.