x
Request Access to the Recovery Coaching Directory
In The Rooms Recovery Coaching Directory
Terms and Conditions
These Terms and Conditions (the "Terms") constitute a legally binding agreement ("
Agreement
") between you and In The Rooms governing your access to and use of the In The Rooms Recovery Coaching Directory (
"Coaching Directory"
). If you do not agree to these Terms, you must discontinue your access to and use of the Coaching Directory.
Scope of Services
1. The Coaching Directory is an online listing platform and marketplace that enables registered users ("
Coaches
") to publish coaching services on the In The Rooms platform ("
Listings
") and to communicate and transact directly with website visitors and prospective clients ("
Coachees
") that are seeking to book such Coaching Services. ("
Coaching Services
") Coaching Services may include the offering of virtual recovery coaching sessions. 2. As the provider of the Coaching Directory, In The Rooms does not own, create, sell, resell, provide, control, manage, offer, deliver, or supply any Listings or Coaching Services. Coaches alone are responsible for their Listings and Coaching Services. When Coaches and Coachees make or accept a booking, they are entering into a contract directly with each other. In The Rooms is not and does not become a party to or other participant in any contractual relationship between Coaches and Coachees. 3. While we may help facilitate the resolution of disputes, In The Rooms has no control over and does not guarantee (i) the existence, quality, suitability, or legality of any Listings or Coaching Services, (ii) the truth or accuracy of any Listing descriptions or other Coach Content, or (iii) the performance or conduct of any Coach. You should always exercise due diligence and care when deciding whether to engage in Coaching Services from any particular Coach. 4. If you choose to list your Coaching Services via the In The Rooms Coaching Directory, your relationship with In The Rooms is limited to being an independent contractor, and not an employee, agent, joint venturer or partner of In The Rooms for any reason, and you act exclusively on your own behalf and for your own benefit, and not on behalf, or for the benefit, of In The Rooms. In The Rooms does not, and shall not be deemed to, direct or control any Coach's performance, including in connection with the Coach's provision of the Coaching Services. As a Coach, you acknowledge and agree that you have complete discretion whether to list Coaching Services or otherwise engage in other business or employment activities. 5. Due to the nature of the Internet, In The Rooms cannot guarantee the continuous and uninterrupted availability and accessibility of the Coaching Directory. In The Rooms may restrict the availability of the Coaching Directory or certain areas or features thereof, if this is necessary in view of capacity limits, the security or integrity of our servers, or to carry out maintenance measures that ensure the proper or improved functioning of the Coaching Directory. In The Rooms may improve, enhance and modify the Coaching Directory and introduce new In The Rooms Services from time to time.
Terms Specific for Coaches
Listing Coaching Services on the Coaching Directory
1. In order to list Coaching Services in the Coaching Directory, you must be an individual at least 18 years old. To add a listing, a Coach must fill out all details in the online submission form on the In The Rooms website, including First Name, Last Name, Email, Phone Number, Short Coach Biography, Coaching Designation, and Profile Image. 2. By agreeing to List Coaching Services on the Coaching Directory, you hereby represent and warrant that any coaching sessions, bookings, or related services that arise from your Listing on the Coaching Directory will be booked exclusively through In The Rooms, and that all related communications will be handled through In The Rooms. In The Rooms reserves the right to remove, without notice, any Listing of a Coach that attempts to complete a booking outside of the Coaching Directory, when that booking has originated from an In The Rooms inquiry. Discouraging, suggesting, and preventing Coachees from booking your Coaching Services through the Coaching Directory is strictly prohibited. 3. User verification on the Internet is difficult and we do not assume any responsibility for the confirmation of any Coach's identity. For transparency and fraud prevention purposes, and as permitted by applicable laws, we may, (i) ask Coaches to provide documentation or verification of a coaching certification from a verified organization, or undertake additional checks designed to help verify the identities or backgrounds of Coaches, (ii) screen Coaches against third party databases or other sources and request reports from service providers. 4. The access to or use of certain areas and features of the Coaching Directory may be subject to separate policies, standards or guidelines, or may require that you accept additional terms and conditions, before you can access the relevant areas or features of the Coaching Directory. 5. The contents of our Coaching Directory are intended strictly for the purposes of: (i) providing a forum for recovery coaches to post information about themselves and their services, and (ii) facilitating the booking of such coaches for engagements to provide coaching services. While we do believe that In The Rooms Coaches will achieve some amount of exposure from a listing within the Coaching Directory, we do not guarantee in any way that the use of our Directory will produce paying clients for our coaches. We do not guarantee that inclusion in our Directory will further the careers of Coaches, help them financially or otherwise produce income. Failure to receive the outcome you expected by listing in the Coaching Directory does not warrant a refund of Service Fees paid to In The Rooms. 6. When creating a Listing through the Coaching Directory you must provide complete and accurate information about your Coaching Service (such as listing description, location, and calendar availability). You are responsible for keeping your Listing information (including calendar availability) up-to-date at all times. In The Rooms reserves the right to remove any Listing that contains incomplete or inaccurate information, upon notice to the Coach. 7. The placement and ranking of Listings in search results on the Coaching Directory may vary and depend on a variety of factors, such as Coachee search parameters and preferences, Coach requirements, price and calendar availability, number and quality of images, customer service and cancellation history, type of Coaching Service, and ease of booking.
Coach Content
1. In The Rooms may, at its sole discretion, enable Coaches to create, upload, post, send, receive and store content, such as text, photos, audio, video, or other materials and information on or through the Coaching Directory ("
Coach Content
"). 2. By creating, uploading, posting, sending, receiving, storing, or otherwise making available any Coach Content on or through the Coaching Directory, you grant to In The Rooms a nonexclusive license to the Coach Content, including the right to access, use, store, modify, distribute, publish, and otherwise exploit in any manner such Coach Content to provide and/or promote the Coaching Directory, in any media or platform. Unless you provide specific consent, In The Rooms does not claim any ownership rights to any Coach Content and nothing in these Terms will be deemed to restrict any rights that you may have to use or exploit your Coach Content. 3. You are solely responsible for all Coaching Content that you make available on or through the Coaching Directory. Accordingly, you represent and warrant that: (i) you either are the sole and exclusive owner of all Coaching Content that you make available on or through the Coaching Directory; or (ii) you have all rights, licenses, consents and releases that are necessary to grant to In The Rooms the rights in and to such Coaching Content. 4. You further represent and warrant that you will not post, upload, publish, submit or transmit any Coaching Content that: (i) is fraudulent, false, misleading (directly or by omission or failure to update information) or deceptive; (ii) is defamatory, libelous, obscene, pornographic, vulgar or offensive; (iii) promotes discrimination, bigotry, racism, hatred, harassment or harm against any individual or group; (iv) is violent, threatening, promotes violence or actions that are threatening to any other person or animal; (v) promotes illegal or harmful activities or substances. 5. By making your Coach Content available for Listing on the Coaching Directory, you understand and agree that Listings and other Coaching Content may be displayed on other websites, in applications, within emails, and in online and offline advertisements for the purposes of promoting the Coaching Directory and increasing the exposure of Listings to potential Coachees. 6. If you violate any of the Terms Specific for Coaches in this Section 3, In The Rooms may remove your Listing and/or Content at any time, without prior notice to you.
Booking Sessions with Coachees
1. You are solely responsible for setting a price for your Coaching Session ("
Session Fee
"). Once a Coachee requests a booking of your Coaching Service, you may not increase the price for your Services. 2. When you accept a booking request by a Coachee, you are entering into a legally binding agreement with the Coachee and are required to provide your Coaching Service(s) to the Coachee as described in your Listing when the booking request is made. You also agree to pay the applicable Session Fees and any applicable Taxes. 3. Each Coach promoted within the Coaching Directory hereby appoints In The Rooms as its service provider for booking sessions with Coachees, and for receipt of payments that In The Rooms permits to be made through the Directory. Where a Coachee wishes to make a payment to a Coach through the Coaching Directory, In The Rooms may accept such payment in its capacity as a service provider of the Coach. Following receipt of payment from a Coachee for a booking session, In The Rooms shall settle the amounts thereof to the Coach less all In The Rooms Fees disclosed on the Service Fees page, and less any chargebacks, reversals or returns by Coachee.
Service Fees for Listings
1. In The Rooms may charge fees to Coaches ("
Service Fees
") in consideration for the use of the Coaching Directory. These fees may include a general monthly fee to list Coaching Services and Coach Content in the Coaching Directory ("
Listing Fee
"), and a percentage of the Session Fee that Coachees are charged when booking a coaching session ("
Booking Fee
"). Any Service Fees charged by In The Rooms are non-refundable. More information about when Service Fees apply and how they are calculated
can be found on our Service Fees Page
. 2. In The Rooms reserves the right to change the Service Fees at any time, and will provide Coaches adequate notice of any fee changes before such fee changes become effective. Such fee changes will not affect any bookings made prior to the effective date of the fee change. 3. Coaches are responsible for paying any Service Fees owed to In The Rooms. The applicable Service Fees are collected by In The Rooms. In The Rooms will deduct any Booking Fees from the Session Fee before remitting payment to the Coach. 4. After your initial payment of the Listing Fee, your subscription will automatically renew on the interval you choose when subscribing to that Listing. You agree that your subscription will be subject to this automatic renewal feature.
Terms Specific for Coachees
1. Subject to meeting any requirements (such as completing any verification processes) set by In The Rooms and/or the Coach, you can book a Listing available on the Coaching Directory by following the booking process on the In The Rooms website via our partner scheduling tool, FlexBooker. All applicable fees will be presented to you prior to booking a Listing. By requesting a booking, you agree to pay the total fees listed for the booking. 2. Upon receipt of a booking confirmation from In The Rooms, a legally binding agreement is formed between you and your Coach, subject to any additional terms and conditions of the Coach that apply, including but not limited to the applicable cancellation policy and any rules and restrictions specified in the Listing. In The Rooms will collect the total fees at the time of the booking request. For certain bookings, Coachees may be required to pay or have the option to pay in multiple installments. 3. You should carefully review the description of any Coaching Service you intend to book to ensure you meet any minimum age or other requirements which the Coach has specified in the Listing. 4. The Coachee understand and agrees that he/she is solely responsible for implementing his/her own physical, mental and emotional well-being, decisions, choices, actions and results of the coaching relationship and Coaching Services. In The Rooms is not responsible for any Coachee outcomes resulting from coaching sessions booked through the Coaching Directory.
Booking Modifications, Cancellations and Refunds
1. Coaches and Coachees are responsible for any modifications to a booking that they make via the Coaching Directory ("
Booking Modifications
"), and both Coach and Coachee agree to pay any additional Service Fees associated with such Booking Modifications. 2. Coachees can cancel a confirmed booking at any time pursuant to the Listing's cancellation policy as set by the Coach, and In The Rooms will refund the amount of the total fees due to the Coachee in accordance with such cancellation policy. 3. If a Coach cancels a confirmed booking, the Coachee will receive a full refund of the total fees for such booking.
Connecting recovery coaches with the recovery community.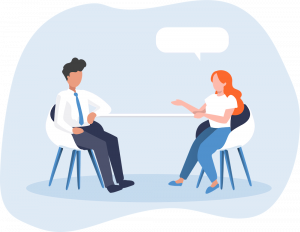 Promote your recovery coaching business on In The Rooms.
In The Rooms has been a trusted name among the recovery community for nearly 14 years, and has become a key online resource for people in recovery, those seeking it, and their friends, family, and allies. With over 650,000 members, adding your coaching profile on In The Rooms gives you boundless opportunity to connect with people looking for a recovery coach.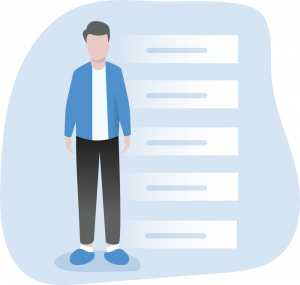 Help people get to know you.
Share a description of yourself and your experience as a recovery coach.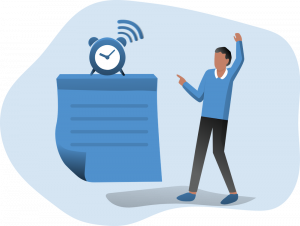 Connect with the community.
Allow website visitors to send you a message or schedule a coaching session with the click of a button.
Transform lives.
Provide support for people seeking or already in recovery, and run a successful business along the way.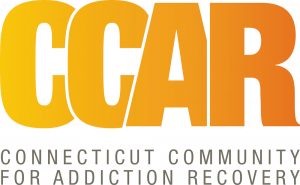 In The Rooms is a proud supporter of the Connecticut Community for Addiction Recovery.
In The Rooms is proud to feature CCAR Certified Coaches, especially those who have been awarded the CART Recovery Coach Professional (RCP) Designation.