Our reading this week took us to the end of Chapter One and the beginning of Chapter Two.  The joy of reading together like this, is the ability to share our stories and to look at the similarities we have with the author. I highly recommend this form of study to others as a wonderful supplement to the recovery process.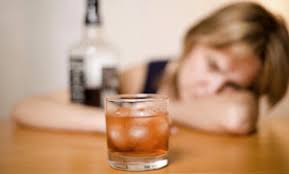 One of the topics Ms. Knapp discussed was the situation of being in a dry location, and carting her own alcohol in her overnight bag to be sure she'd have enough to get her through the time she would be spending there.  She also talked about making a 90 minute round trip visit to the nearest county that sold alcohol and crafting what she perceived to be logical reasons for the need.
I have memories of visiting my parents' vacation cabin.  Nothing exciting – a little one bedroom wood frame cabin, unheated and uncooled. The cabin was in a dry county in the heart of the Bible Belt. Just two radio stations – country and gospel. Not exactly the style of the family Dead Head. I remember girding myself for those weekend visits, never more than a weekend, because I could only bring so much alcohol with me without being obvious. I made regular trips to the bathroom, stopping in the living room with the fold-out couch to fumble through my bag for my bottle to swig from. It was more difficult if we went to the beach, as I couldn't take it with me. If I ran out on Saturday night, some "issue" always arose at work that required my return home early on Sunday. Unfortunately for me, the closest watering hole was more like a 4 hour round trip which was out of the question.
The other situation Ms. Knapp discussed was the concept of the "high functioning alcoholic". Ah, the functional alcoholic. I didn't' know that term early on. I thought all alcoholics were men that wore trench coats and carried whiskey or wine bottles in brown paper bags. I remember having a conversation with my sponsor early in our relationship, telling her that I wasn't sure I was an alcoholic.  She smiled and asked me to explain. I said, "Well, I've never had a DUI. I've never been to rehab. I've never lost a job. I have a husband, two kids, a house, two cars in the garage, and a job with a decent salary. I have only missed a couple of days in my entire career because of a hangover."
My sponsor started to laugh and I became indignant.  "What are you laughing at?" I asked. And she said something I will never forget as long as I live.  "Jackie, people who are not alcoholics do NOT feel compelled to explain WHY they are NOT alcoholics." That hit me like a ton of bricks. She proceeded to explain the concept of functional alcoholism to me and shared her personal dance with functionality. So, on that day, I came to believe that I was a functional alcoholic.
Drinking almost every night, by myself, in my basement, out of the bottle, after everyone else was asleep. "Falling asleep" down there almost every night. "Waking up" with the bottle in my hand, slumped on the stairs, drool on my shirt. Go upstairs, get a shower, go to bed. Get up the next morning and start all over again. Yup. I was a functional alcoholic.
Jackie S.