Mondays at 8:00 PM–9:00 PM EST
Moderator/Facilitator: Kenny Pomerance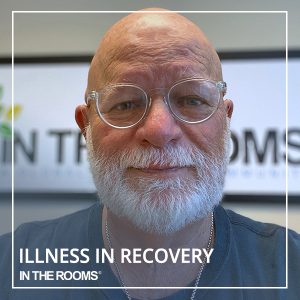 About the Meeting: "Illness in Recovery"
"Illness in Recovery" is a meeting dedicated to ITR members supporting one another within their recovery community. Many members deal with chronic diseases which don't come up in online 12 Step meetings. No one wants to burden friends and family, but feelings about illness are still important enough to share … especially with people who are going through similar issues. This meeting won't be a gripe session or a medical show. Instead, moderator Kenny Pomerance hopes to make it into a place where members help one another find solutions and acceptance.
About the Facilitator: Kenny Pomerance
Kenny Pomerance, a co-founder of In The Rooms, has dedicated his time to sharing this online recovery platform with the world since its inception. Kenny has over 40 years of entrepreneurial experience, and he worked on a variety of startups before creating ITR with Ron Tannebaum, his business partner. He has been in long-term recovery for over 37 years, recovering alongside his wife, Jamie, who has been in recovery for over 34 years. Kenny has only recently begun sharing his struggles with kidney disease. Because of his own testimony, Kenny invites anyone dealing with illness to join him in his "Illness in Recovery" meetings.