Dr. Nicole Avena has the scoop on nutrition and addiction.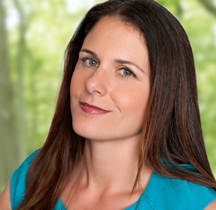 We know we should all eat just a little better. But what if the foods you eat act like the addictions you're recovering from?
Dr. Nicole Avena has the research to suggest that might be the case. Thanks to her extensive work (first begun during her PhD in Neuroscience and Psychology from Princeton), she can present her findings to any group that needs to hear it. So far, that includes Harvard, Yale, Columbia, and the National Academy of Medicine, not to mention all the people who've read her 2013 book Why Diets Fail: Because You're Addicted to Sugar. Her areas of expertise include nutrition, diet and addiction. That last area explains why she was kind enough to answer a few of our questions.
In The Rooms:
What's the most consistent trend you've found in the nutrition-recovery relationship?
Dr. Nicole Avena:
That nutrition can improve how people feel, and when people feel good, they're less likely to relapse. Their recovery can benefit from proper nutrition and eating well, and the right nutrition can help people to get over cravings.
ITR:
Are there any nutrition-recovery trends that you find encouraging?
NA:
The fact that some treatment programs are taking the nutrition piece seriously is an encouragement. It hasn't always been a part of the treatment plan for most programs, but more and more of them are realizing the value in helping patients improve their health outcomes. 
ITR:
Are there any nutrition-recovery trends that you find troubling?
NA:
I'm not a fan of fad diets (keto or paleo), and I worry that they're finding their way into some recovery programs. You don't need to go on an extreme diet and cut out all sugar or flour or meat or whatever the latest diet craze tells you to do. You just need to eat a well-balanced, healthy diet that doesn't have a lot of junk food and processed foods. The processed foods that are made in a lab somewhere (like chips or cakes) are the types of foods that activate addiction responses in the brain, not meat or apples.
In The Rooms:
What led you to nutrition study in the first place? What did you find that kept you going into more research and expertise?
Dr. Nicole Avena:
I was doing my PhD in Neuroscience at Princeton, and I got interested in how the brain plays a role in unhealthy eating behaviors. I was actually interested in drug addiction and the brain mechanisms that played a role there, and it seemed like there could be overlap in the brain systems that were activated by both junk foods and drugs. It turns out that there were a lot of similarities. Bingeing, withdrawal, cravings, and neurochemical changes that are similar to what you see with drug addiction were also seen in "food addiction." We're still doing research in this area, since there's so much more to learn.
ITR:
What would you recommend to those in addiction recovery?
NA:
Pay attention to what you eat. When you clean up your diet, you'll feel better. It can also help with cravings – the same systems in your brain are activated by both junk food and drugs, so cutting out the unhealthy foods will help your brain to heal.
ITR:
Is there anything new happening for you in 2020?
NA:
I have a new book coming out at the end of the year, What to Eat When You Want to Get Pregnant. It's a healthy eating guide for women and men who are thinking of having a baby. The most interesting part of working on this book was the fascinating research about how the foods we eat can impact our bodies so many different ways, not just in our fertility!
What Now?
Keep an eye out for What to Eat When You Want to Get Pregnant later this year. And if you're interested in nutrition for your recovery, learn a little more at In The Rooms. We have articles on recovery nutrition and meal tips, along with 130 peer recovery meetings. Visit us today, and maybe sign up for free!