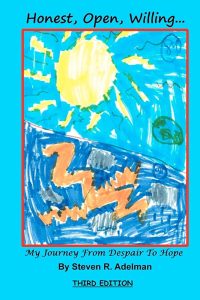 Steven Adelman was born November 16, 1968 in Hillsdale, New Jersey the youngest of four children. He accidentally started a house fire at the young age of five resulting in being diagnosed prematurely as mentally ill. This increased his feelings of being out of place, not fitting in, being defective, and resulted in low self-esteem, getting teased, bullied, and having problems in school until being labeled as Emotionally Disturbed and being placed into 'Special Ed'. This escalated into trouble with the law, neighbors, friends, family, and himself.
Years of alcoholism, marijuana addiction, and other drug abuse eventually lead to isolation, depression, and despair. There seemed to be nothing left before reaching near suicide around January 31, 2008. This was soon before entering an outpatient rehab to first become (and remain) sober, clean, and working the 12 steps to recovery.
His first book, "Honest Open Willing…My Journey From Despair To Hope" was published in an attempt to show the public that people with addictions, mental illnesses, and different problems need understanding and support. Steven Adelman continues trying to carry the message as a way of expressing gratitude. If others can identify with him then maybe they will know they are not alone and that there is hope for them too!
This book was originally going to be called 'H.O.W. Honest Open Willing Posts' which was a non-fiction but anonymous story about someone who posts on a social network in a closed group with about 260 understanding friends, family, school mates, and anonymous fellowship members. They start to relate in one way or another as each day he eventually tells of every brutal thing he did and was done to him going from birth all the way through his early 40s.
This includes feeling awkward, not fitting in, low self-esteem, bullying, mental illness, arson, theft, vandalism, special education, depression, marijuana addiction, alcoholism, drug abuse, sexual promiscuities, suicide, encounters with the law, accidents, illnesses, 9/11, and more. All of it leads down an even more vicious, destructive cycle while experiencing despair, loss of meaning, fear, and insanity. There is only one of two ways this could ultimately end but it does end with recovery, the 12 steps, and a brighter future with hope after 4 plus years.
No one would know exactly who it is but that it is 100% true. The only problem is that hundreds of people would have known right away and everyone else rather soon, that it was me.