HOPE ROAD 
from Addiction to Recovery 
John Dillon's Album Delves into Depths of Addiction and Hope of Recovery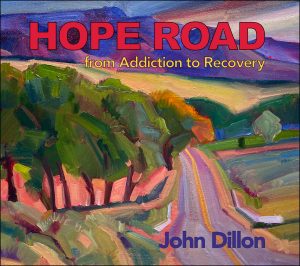 THE STORY  
Accomplished singer-songwriter, author and producer, John Dillon tells his recovery story through 12 compelling songs: 
During the 1960s hippie movement, the mind-altering substances were part of the culture, part of the adventure. For three days in August of 1969, John soaked up the music, the mud and the vibe at Woodstock, and a few months later decided to drop out of college to get a 'real' education. Sacramento to Cheyenne brings to life his years of traveling the country via thumb and freight train… before the drugs and alcohol turned against him. 
John settled in a New Mexico new age spiritual community, where he didn't drink or use drugs for 8 years. When his marriage broke up and he left the group, the drugs and alcohol returned. Years later and re-married, he found himself leading The Double Life, one while he was on the road working for the family business, and the other while he was home  with his wife and children. John's Addiction had reached a point where he could no  longer get through a day without drinking or using. The inner torture became a War (a  song written by his son, Jackson). 
In White Flag, John recalls a 'divine intervention' in the form of a run-in with the law.  His true recovery journey began at a Pennsylvania addiction treatment center in 1992.  His cover of John Hiatt's Thirty Years of Tears describes the rehab experience. Subsequent songs on the album show how John has maintained sobriety and  spiritual growth through working a 12-step program, Learning to Serve and much Gratitude. Chesapeake Bay acknowledges that even in sobriety, life can present  serious challenges. The album closes with the title song Hope Road, which offers  encouragement to listeners by describing what's possible in a sober life. 
THE RECORD  
Produced, engineered and all guitar work (acoustic & electric 6 & 12 string, baritone  and bass) by John Dillon. Mark Tomeo adds pedal steel and dobro. Fiddle by Taylor  Whiteside. Steve Adams and Catherine Reid play piano. Joe Jencks adds color with  electric and acoustic bouzouki. Harmony vocals by Catherine, Joe, Tekla Waterfield and  Vivian Nesbitt. 
THE REASON  
Through the release of HOPE ROAD and ongoing live performances, John aims to  raise awareness of the disease of addiction and the hope of recovery.  
JOHN DILLON is recognized for his work as producer and co-host (along with his wife Vivian Nesbitt) of Art of  the Song a one-hour program about songwriting and  creativity heard across America on over 100 public radio stations. His book The 20-20 Creativity Solution gives readers a step-by-step process to enhance their creativity.  
As a luthier, John has built over 80 custom guitars for the likes of Hank Williams, Jr., Trisha Yearwood, the Mavericks and Steve Earle. John lives on a farm in upstate New York with Vivian, her mother, two dogs, two horses and lots of guitars.
The CD, HOPE ROAD – from Addiction to Recovery will be released on May 15, 2022 with a live performance at the renowned music venue Caff? Lena in Saratoga Springs, NY. The concert will be broadcast worldwide via Caff? Lena TV (https://caffelena.tv)