I began writing my book, Miracles of Recovery, out of desperation.
My daughter, Laura, passed away from a lung disorder called Idiopathic Pulmonary Arterial Hypertension (for which there is still no cure). Then, six short weeks after her death, my baby brother died from alcohol and drug addiction. After these tragedies, all of my immediate family was gone—it was just me and my dogs. Driven by fear and the blatant realization that I had no time to lose in life, I began searching for an RV to travel cross-country in.
In early spring of the year following Laura's death, my two dogs and I set out for a cross-country trip in a Toyota Motorhome RV. I drove from Tallahassee, Florida to Oklahoma, then continued to the majestic state of Wyoming. Every day was exciting and exhausting—driving was draining in and of itself. In the late afternoons, without much else to do, I would pray, and write.
As an alcoholic/addict still in so much pain from the loss of my family, I felt more alone than I had ever been. I asked my God to be with me as I wrote and cried a million tears. But with every page I wrote, regardless of the topic, a transformation took hold. I felt hope.
Hope, because I understood that indulging in my addictions would probably kill me.
Hope, because I knew (without "really" knowing) that I had work to do.
Hope, because no matter how alone or sorrowful I felt, I knew that tomorrow was a new day and everything would pass, if I let it!
Each day, driving through eight states with prominent mountains and magnificent lakes, I wrote, and I cried. And through the pain, gratitude was born. I felt as if my God was writing with me. With each mark of my pen, the paradox of pain, gratitude and strength beyond measure transformed both myself and my writing. Each day, I became spiritually awakened through the power of embracing my God as I compiled thoughts, feelings and experiences. And over the course of these seven weeks, Miracles of Recovery was born.
Miracles of Recovery
We have all experienced overwhelming pain, stress and miracles. Miracles of Recovery is, at its very core, a book of hope and inspiration. Each of us who faces tough situations, and especially during these most fearful and terrifying of days, will find a measure of comfort and peace within Miracles.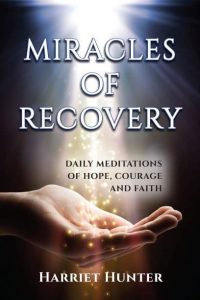 This is a book born of spiritual intoxication. They were not my words—my words would have been crass, harsh and void of compassion. In producing the framework of the topics, I surrendered completely to my God. I was a vessel for words, with the purpose of giving others strength and encouragement.
Miracles is for everyone: for those still in active recovery, sitting on the fence, contemplating whether to jump in or run. It is for the old-timer, and for the family and friends of alcoholics who, just like me, have suffered their own personal and agonizing hell because of our destructive activities, and who now find that they, too, are alone and lonely.
I will always be recovering from my own addictions. While approaching 21 years clean and sober, sober-time means very little on any given day. I'm convinced that we are either moving closer to our addiction or walking further away, depending upon our spiritual condition in that 24 hours.
Miracles during uncertain times
If you are in addiction recovery, you, just like me, are most likely experiencing some of the most intense and fearful times of your life. So many of us either feel too much or not enough! And without places like In The Rooms and our 12-step programs of action, I know what fear can do for us and where it can take us—emotionally, physically and spiritually. I know, because even though I'm sober, my emotional sobriety continues to be tested, and I've walked over and stood at the edge of that plateau, overlooking the deep crevasse.
If you read with an open mind, Miracles of Recovery can bring you back from that ledge.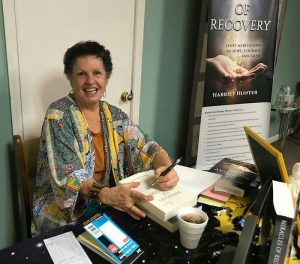 For the next several weeks, or until this terrifying virus passes (as it eventually will!) I want to share my experience, strength and hope with you. I'd like to help remind you that, with an open heart, you will find a way to rise above fear, stay the course and have faith. While it may feel lonely, we are not walking alone.
Listen to some free readings from my book here, and enjoy a free calendar with daily messages of hope, courage and faith. If you like what you hear, please check out the full book, available for a special discounted rate right now!