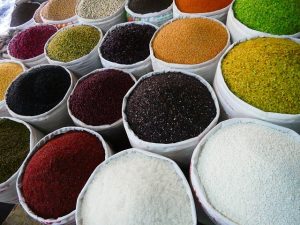 We are each of us unique and all of us similar. That is what makes recovery such a challenge and a blessing. I hear me in you, and yet, I process things in my own way. I am both an individual and a part of this clan.
Ayurveda is the sister science to yoga. This ancient tradition also applies to people in modern society. It is the practice of restoring people to their personal original balance and constitution. Not all of us have the same constitution, but we each have something in common with one another. We are all forms of air, water, solids, vapor, chemicals, biology and so on. The ayurvedic practitioners have categorized all these into three main types, called "doshas": Vata, Pitta and Kapha. There are no words into which to translate these- but they are easy enough to say. Here are some characteristics of each. (Please bear in mind this is an overview and an ayurvedic practitioner can guide you more precisely and completely to understand how you fit in to this model.)
THE DOSHAS- A SIMPLE CHART
To find out what your doshic combination is (as we are seldom all one dosha, although that can happen) you can use any of a number of online tools. I don't want to promote one over the other but Banyan Botanicals has a good short informal question and answer tool you can use for free on their website. For a true complete assessment consider going to an ayurvedic specialist.
VATA predominant people are creative, open minded, universalists, and inspirational. When out of balance they can be fearful, anxious, restless moods, and even self destructive with cutting behaviors and suicidal ideation.
PITTA predominant are intelligent, discipled, friendly and courageous. They can be natural leaders. When this dosha is out of balance the pitta characteristics of anger, aggression and blame may emerge with criticism and possibly erupting into violence.
KAPHA predominant people work at finding appeasement, want things to be peaceful and to work out. Out of balance Kaphas my become tricky, resorting to thievery to get what they want/ need. Procrastination, sleepiness, depression, along with dependence and manipulation can become their behaviours.
Durga Leela (Yoga of Recovery) lines up the doshas with addiction preferences like this:
VATA: more inclined to use tobacco, amphetamines, have eating control issues, crave sugar and caffeine.
PITTA: yearns for activity and success so may use speed, cocaine, psychedelics even methamphetamines
KAPHA: disordered eating, barbiturates, heroin or opioids, all manner of downers.
Alcohol falls into all three types. These are not exclusive or diagnostic but are prevalence's.
There is a lot of healing going on when you are new to recovery. The ravages of the addiction, the harm we have done to our body minds and spirits needs to be mended. Ayurveda can be a wonderful addition to the recovery process.
As we become more grounded in recovery we may be more aware of our constitution: we become more aware of how we feel and how our emotions have an impact on how we act. Can understanding your doshas help you in determining what is out of whack and how you can address it?
We can all get unbalanced and exhibit some of the more difficult traits noted above. If we know our constitution type: Vata, Pitta or Kapha (or the combination that we are) we can help ourselves balance by adding dietary and sensory improvements to our lives. What should YOU do for your doshic type?
Here are some tastes, smells, colors and body work types that can bring you back in balance.
THE DOSHAS: TOOLS FOR BALANCING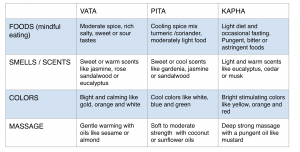 Yoga can be a part of the tools you use for finding balance: a slow style like restorative or yin yoga can help reduce an overactive vata (although you might resist, it is very useful).  A pitta can benefit from cooling postures like shoulder stand or forward folds. A kapha person would benefit from a stronger practice with shorter holds for each posture and a little more movement.
"Like likes like" – again from Durga Leela's work – we want more of what we feel. If I am anxious I think about all the things that worry me. I am more comfortable there. If I am agitated I may be more attracted to movement oriented activities. I resist what may heal me. We like to do what we like to do. In the case of balancing an overactive dosha we use discipline to settle into the healing process. Slow down if you are amped up; move more if you are lethargic. It works.
This is a very complicated study, and has so many aspects that can be investigated to help you heal and maintain your recovery so- start small! Add color and spice to your day: then move, then move on. It is progress not perfection so small steps make the journey pleasant.