Good stress, bad stress – distress finds redress. The word stress comes up over and over again at this time of the year as the seasons change from Gratitude (Thanksgiving) to Shopping (Christmas.)  We move from being grateful for all we have to the sales and promotion influences of needing more.  This can cause pressure.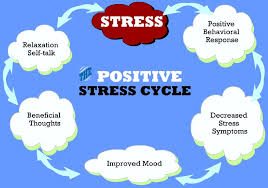 We may anticipate the coming together with family with both the joy of expectations and the sorrow of remembrances. This collision of social stories and the reality of our personal lives may be in conflict, creating friction which can also result in strain.
I find that this time of year can pull at my time, my talents, my abilities, and my finances in a lot of different directions. I have a full load of various jobs and while I delight in buying and making gifts, this adds another level of "to dos" to my list. Joy and eagerness can sometimes be swamped with "shoulds" and  I can become overwhelmed with the crowds and marketing ploys. What was once an activity I looked forward to, can quickly become stressful.
Understanding the types and conditions of stress is important. There is "good" stress and "bad" stress. Stress is a natural and vital confluence of physical and mental conditions. The body relies on the stress response as a protective or preparatory condition; to freeze, flee or fight. Adrenaline increases, oxygen is pumped to the muscles, and we experience the world a little more brightly. In its positive forms we use the stress response to gear us up for a test, to share at a meeting, to get through the last mile of a race. It can help us persevere and complete work.  But if it is ongoing it can turn to "bad" stress. If it is unrelenting we experience overwhelm and fatigue.
In the fight or flee mode, the stress response causes us to ramp up alertness, gear up physical responses and to engage the brain at a more rapid pace. The senses become hyper vigilant (hearing, sight, and reaction times), the body shuts down to a degree to reserve power for emergency responses if needed. Others of us freeze; shutting down our ability to assess and respond; we sleep or eat or isolate. So in some situations prolonged stress may make us combative or evasive, and in others we might withdraw inside ourselves.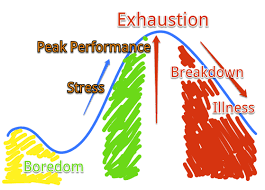 So short term stress – useful; but no matter what our response (flee, fight or freeze) stress becomes damaging when it goes unrelieved. It takes a toll on the body, mind, energy levels and spirit. When a useful natural combination of hormonal release, muscle enlistment and neural engagement goes on without release, we become exhausted in all those areas. We are either always in flight or fight mode. "Bad" stress is the condition of the stress response getting stuck in either the ON or OFF position. This can also lead to stress related illnesses such as increased number of colds and susceptibility to flu and diseases of an impaired immunity system.
As an addict my body is used to being stuck in ON or OFF. Either one. Part of my recovery has been to discover the symptoms of stress, determine if it is useful, find remedy before it turns to bad stress, causing me distress. And when I do overshoot the mark, when I do get stuck, I do what I can, as soon as I can to redress the situation.
GOOD NEWS: There are many ways to reverse the cycle and to avoid it altogether.
We can bring present time awareness to ourselves through breath, meditation and movement. And (of course) I would suggest Yoga as a comprehensive practice to address all of these three. But there are many modalities and meditation practices that can aid you in early identification and release from stress.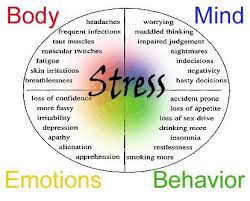 Practicing acceptance can curtail distress and provide relief.  We in recovery have a good working knowledge of the benefits of acceptance. It is useful here as well. Acceptance alleviates stress.
Helping others is clinically proven to reduce stress.  Our program of recovery that includes reaching out to help one another is a stress reducer.  WARNING: more is not necessarily better. Over doing for anyone can create stress of its own. Say hello to a new comer, offer to clean up after a meeting, be a greeter, share when asked. That is sufficient. BE the recovery you want to see in the world.