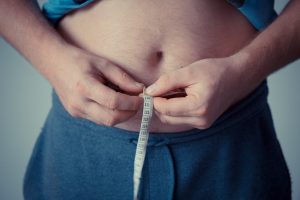 When I was 16, I was 5'8 and 115 pounds. I was able to run a five minute mile and had complete control over my eating habits. Fast forward 12 years later, I am 28-years-old and over 200 pounds and cannot even jog a block before getting winded, I don't know where things exactly went wrong but here I am, living in my new body and feeling shame for letting myself go. Marriage, the stress of a career, juggling school and the generalities of life had taken its toll since high school and I felt miserable. I felt like no matter how many times I moved forward I would always take a step back with my poor eating habits.
The first time my excessive weight gain had become apparent was during a trip to my Grandparents' house. The trip was excellent, but upon returning home I was confronted with a rude awakening. The photos I admired of the trip showed a stark contrast of the young, vivacious and energetic kid that I once knew. What happened to my body, I wondered. How did I do this to myself and why did I do this to myself? Seeing those photos made me realize just how much I let myself go and it made me feel inadequate. I knew something had to change but I didn't know where to start.
The road to recovery from this unmanageable lifestyle was more of an emotional one than it was a physical one. I had been abusing food, caffeine, sweets and all other forms of snacks to compensate for boredom, stress, and sadness. The only option was to tell myself that enough was enough. I was determined to do whatever it took to say goodbye to the weight I put on and the feelings of inadequacy, depression and shame that came with it.
I began by taking out caffeine and soda out of my diet, cold turkey. This helped dramatically alter the course of my diet, helping me lose 5 pounds during the first week of my diet! But that wasn't all. I still wanted to achieve my goal of being 160 pounds, which meant a dramatic reversal in other areas of my diet. I also began changing what I ate. Making these changes helped me realize that I do have control over this situation. I had to plan my meals and think about what I ate but I was excited and eager to make these changes in my life.
The first thing I did was switch out the frozen foods for more healthy alternatives. That meant the Hot Pockets I was eating turned into Lean Pockets. This helped reduce the amount of my daily caloric intake. Even though these were only small changes, by the end of the first month I had actually lost eight pounds! When I saw these results it made me realize that I can do whatever I set my mind too, I was eager to lose more weight. I was feeling great and that feeling of empowerment was enough to drive me further along in my diet.
During the second month of my diet, I decided to take a weight-loss tip from a friend. She told me one way to help control my hunger was through drinking a gallon of water a day. I was skeptical at first, but later decided to experiment with it. By the end of the first week of my water binge, I was able to dramatically reduce the amount of food I ate a day because I felt more full. This, in turn, helped me lose another ten pounds by the end the second month. I was getting closer to my goal and feeling great! My family was proud of me and their encouragement helped me along the way and motivated me to do even more.
Now that I was feeling even better about my diet, I signed up for the gym. I was over twenty pounds lighter and the amount of energy I had increased so much since the beginning of my diet that I felt invincible. I began running a mile a day, then two, then eventually worked my way up to five miles a day, five to six days a week. Combining this routine with a sugar/caffeine free diet mixed with healthy foods like fish, baked chicken breast, salads and other health foods ultimately helped me achieve my weight loss goal in just two more months. I never knew that I would be able to get to my goal weight, when I first started it felt like an impossible task. Slowly chipping away at the weight and keeping the discipline to eat healthy made me feel like I was in control of my weight for the first time ever. I felt free.
In all, the diet was not easy but it was rewarding. Today, my self-esteem is at a level I never thought possible. I have a renewed sense of self-worth and inner happiness I haven't felt in many years. I can't say how important good health is but it all starts with getting serious and following through with your goal. You might sometimes say it isn't worth it, just give up, feeling like you will never reach your goal can make people give up on anything. But listen to me, tune that negative energy out and believe in yourself. You can do it, I did, one day at a time.