Without question, our world is in crisis. We're in the midst of a pandemic with no cure, we're confined to our homes, and many of us are suddenly unemployed. Simply put, we're in crisis. And after nearly three decades as a psychotherapist, I can tell you unequivocally that situations like this bring out both the worst and best of our personalities.
Of course, much of our nation has been stressed, worried, and grieving losses for quite a while. Even before COVID-19, we were a nation in crisis. We were just in crisis about other things. Neither I nor anyone I know has been truly relaxed and feeling good about the world for quite some time, and I suspect that you could say the same.
Recognizing this, I must ask myself a question. Do I want to be my best self or my worst self as I face the current crisis? For me, the answer is easy. Because I know that when I am my worst self, I tend to make things worse, not better. When I am my best self, I find gratitude for the situation and I make my life and other's lives a bit more pleasant.
So, to those reading my words today, please consider that what we most need right now is to be kind to ourselves, our loved ones, our neighbors, and every other person we encounter. If they can't see us smiling through our facemasks, maybe they can see it in our eyes and hear it in our words. Instead of kvetching about what we can't do and fretting about what we don't have (or might run out of), let's speak kindly about the world and focus on the many blessings in our lives. Let's forgive the small things and even the big things, looking for opportunities to shine, validate, and display empathy.
Remember, practically speaking, the person, place, or situation you whine about today might be where you go for help tomorrow.
We are all in this together. And in case anyone has missed the underlying message on the evening news, it's that people are getting horribly sick, and many of those people are dying. Sadly, it's likely that some of the people reading this post have been impacted already, or soon will be. And that's scary stuff, folks. For me, anyway. I mean, I had some plans for my life, and dying in a pandemic was not on the list.
Still, I am choosing to be my best self today. I am finding some gratitude in what we're facing – lessons to learn, connections to renew, and a chance to think in new, creative ways about the future.
At this point you may be thinking: Why does he keep mentioning gratitude? How can anyone be grateful about a killer pandemic, shelter-in-place orders, financial struggles, political strife, home-schooling when I have no idea how to teach geometry, and everything else we're currently facing? If that's what you're thinking, I don't blame you. In times like this, it can be difficult to find gratitude. It's much easier to focus on the downside, to grumble that roses have thorns when maybe, just maybe, we could celebrate the fact that thorns have roses.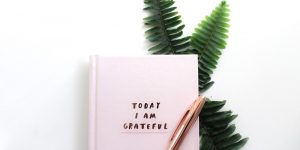 Yes, gratitude in times of crisis can be difficult, especially when we're also grieving. Some days, we may feel as if we are incapable of gratitude. But we're not. We may, however, need to look for small things rather than big things to be grateful for – fresh air, a sunny day, a friend to chat with on the phone or via webcam, an extra roll of toilet paper, etc. If you find yourself really, truly struggling with gratitude, I suggest you start with one single thought: I am grateful to be alive at this moment. Then, maybe you can add a few other items to your gratitude list, even if those things seem minor or even silly.
With a bit of practice, finding things to be grateful for gets easier. As a direct result, we start to feel happy (or at least less miserable). If you don't believe me, there is some excellent research to back this up. The best work comes from scholar/author Brené Brown, who conducted thousands of in-depth interviews examining the causes and underlying factors of happiness. Through this work she identified one (and only one) meaningful difference between happy people and unhappy people. That difference? Happy people are grateful for what they have, and unhappy people aren't.
She also found that people who are grateful for what they have are:
Less stressed out
Less likely to wallow in fear, shame, and depression
More hopeful
More likely to recover from serious life issues (including physical illness)
So gratitude is powerful medicine – even in the midst of COVID-19. Gratitude helps us, maybe even forces us, to be our best selves at a time when petty frustrations and even smoldering resentments are luxuries we can ill afford. So let those things go. Even though you may want to respond to someone or something with sarcasm, don't. Even though you may want to complain about your neighbor's barking dogs, don't. Instead, choose to be your best self. Focus on what's good in your world, and how you can add a bit of good to someone else's world.
We are alive. We have loved ones, homes, food, and (mostly) health. Today is a great time to take stock of these gifts. Today is a great time to notice how even simple moments can be precious. Today is a great time to realize that however many things there are to complain about, there are countless more to be grateful for. Today is a great time to step away from negativity so we can focus on what really matters.
Here is what brought me joy today. I got onto a live chat via WhatsApp with over 30 high school friends. I got to see how happy they were talking about their kids, their lives, and the happiness they felt in getting together. That left me feeling both grateful and joyous.
So now I ask you: What are you doing today that brings you joy? How are you planning to share that joy? Is there a way for you to intentionally connect with friends, loved ones, or maybe even total strangers? Do you need any help? Can you provide any help? What joy, humor, experience, questions, strengths, actions, distractions, meaning, and love can you bring to the world? Because it's those things, not fear and anger, that we need right now.