"I must not fear. Fear is the mind-killer. Fear is the little-death that brings total obliteration. I will face my fear. I will permit it to pass over me and through me. And when it has gone past I will turn the inner eye to see its path. Where the fear has gone there will be nothing. Only I will remain."

Frank Herbert, Dune
I have spent a lot of time over the last few weeks thinking about this quote. Living as we are, in a time of unprecedented upheaval in so many areas of our lives, it seems silly to say "Don't worry. Don't be afraid." We are worried about the virus spreading across the world. We are concerned for our loved ones.  We are concerned for ourselves. Many of us are out of work. We are cut off from our social networks in a physical way. What is not scary about this?
Addiction under the weight of quarantine
For those of us living in recovery, we are faced with the challenges of a new reality that contradicts the very things we have been told will keep us clean and sober. Social isolation defies everything we have been told about getting clean and staying sober. We go to meetings for a reason. Our disease thrives in isolation, and just like this virus keeping us quarantined, it hides in us, not always showing visible signs until it's too late.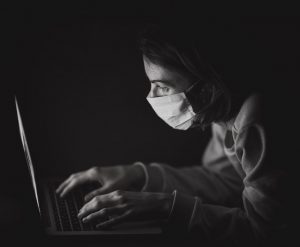 In preparation for an online recovery meeting, I researched addiction under the weight of quarantine. I was frantically searching for something to guide the group through the anxiety so many of us had admitted we were feeling, but there was nothing out there. I read articles that talked about dealing with anxiety in recovery, and they offered no advice for our current situation, because they were written before the pandemic. I found nothing that really offered any hope.
We are in uncharted territory. But as addicts in recovery, we are used to the unknown.
Because of this, I came to realize that if anyone is truly suitable for these kinds of changes taking place in the world right now, it's us.
The world can learn so much from us.
We know what it is like to step away from our daily lives and dive deep into the unknown. Those of us who checked into rehab did this very thing. Those of us who checked into rehab multiple times are pros at stepping out of the normal day-to-day and figuring out ways to change behaviors. Not everyone is capable of doing what we had to do to survive.
We know how isolation can breed fear and insecurity. Because of that, we go to meetings, but in the midst of a pandemic, we had to shut the doors on what kept us focused on both a physical and mental level. So right away, we adapted and began online meetings as a way to connect. We adapted and the world followed our example, by encouraging work-from-home and other ways of maintaining social interactions through the internet.
Having had the Serenity Prayer beaten into my grey matter, but having changed the verbiage to fit my paradigm, I know that I have the reason within myself to accept the things I cannot change, the power to change the things I can, and the knowledge to know the difference. I also know that I can move through anything by keeping my focus in the moment. The phrase "one moment at a time" has never been more real than now as we are living in recovery in quarantine.
Those who know me know that I often say this…
"There is no one stronger than an addict in recovery who is working their chosen program."
As we stand, rooted in this moment, we can look back to the past, and forward to the future, and know that we are right here, right now, in this moment, and that is all that matters.
I'm not going to tell you to not be afraid. It's a reasonable emotion in this time, but we can't become frozen in it. It is inhuman to not have feelings of fear right now. There is just so much we don't know, and so much misinformation floating around that it's hard to know what to believe. We fear what we don't know or understand, and that's what makes it scary. Fear shows us our limitations. We need to continuously remind ourselves that these are things we cannot change, while remembering that we have the power to dismiss them, because we know we have the power and the strength to change the things we can.
We know that we need to be accountable for our recovery if we want to remain clean and sober.  We know what we need to do because we have done the work of recovery time and time again.
What we can do to stay the course
Everyone is on their own journey of recovery, but we aren't walking this path alone, even though many of us are quarantined by ourselves. We can find online recovery community now, because it's out there, and it's working. We can reach out to those in our lives that support our health and well-being and talk via text, call or video chat.
We can look for dopamine releases that don't involve drugs, such as…
Spending time in nature, even if it's just meditating next to an open window.
Making lists of tasks we need to accomplish and checking each item off once we've completed it.
Moving our bodies as much as we can, whether it be by finding yoga or fitness videos online, or just turning up some music and dancing.
Eating as well as we can.
Spoiling our pets or plants.
Listening to podcasts that stimulate our minds and empower our spirits.
We can take this time to go deep within ourselves and meditate on the things we didn't have time to do when we were so busy living our pre-quarantine lives. We can sit on our cushions at our altars and allow ourselves the space to listen to ourselves or our higher power in a dedicated and quiet way. We have the time now.
We cannot afford to seek reasons to relapse in the midst of this crisis. As addicts, we can come up with a million excuses to use, but we need to choose to not fall into that trap again. We don't want to go backwards. Snakes don't crawl back into their skins once they shed them.
We have all experienced the chaos of addiction. We lived with chaos every day that we were using, and we found our way out. Regardless of the amount of clean time you have—be it one year, one day, or one minute—we know each moment is monumental. Why give that up because of a virus?
We know chaos. We know uncertainty. We know these two things better than anyone. We also know that there is a way out.
Face the fear. Allow yourself to experience it. Taste it. Feel it. Know it for the power it has to create positive change, and embrace that feeling. Then let it flow past you like the water over a rock in a stream. Release it with every breath you exhale, and push it away.
Where the fear has gone there will be nothing. Only you will remain.