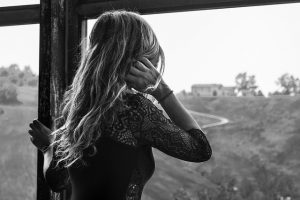 I sat alone, the silence deafening and asked myself how did my life come to this?,
I knew the drink wasn't working anymore,
It didn't take away the pain like before.
It took away my laughter, my creativity and the years,
My head told me I didn't have the strength or courage to live without it
I thought I couldn't go on…..
Like in a dream you spoke to me and said
"I know the road you have traveled has been a rocky one,
I can see you feel desperate, frightened and alone.
But if you take your last bit of strength and come with me,
I will show you the way out so you can be free."
I looked at the road ahead which led to the edge of a cliff
I walked over and looked up and down,
A thick mist covered everything above and all of the ground.
There was the faintest glow of the sun shining through,
The first bit of warmth that had touched my skin for a time.
Uncertain I turned around to look at the road I had traveled…
Strewn along it were the broken hearts of those who loved me,
I saw a little girl kneeling all alone and crying,
Once full of wonder, she was frantically trying to pick up the pieces of her hopes and dreams…
She had a gaping hole where her heart used to be.
I could see it clearly now,
There was nothing back there for me but pain and misery….
I walked over to the edge, scared of what lay ahead but knowing in my heart I couldn't go back.
Like a baby bird taking flight for the first time,
I closed my eyes and jumped into the unknown…
It took that one leap of faith for me to be able to see,
All the wonderful things that you had waiting for me……