Sundays at Noon – 1:00 PM EST
Moderator/Facilitator: Taryn Strong, RYT, CPRC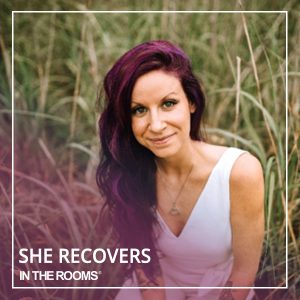 About the Meeting:
We are all recovering from something! This weekly gathering is facilitated by Taryn Strong (Co-Founder of SHE RECOVERS) and is for women looking to cultivate and follow individualized and holistic pathways and patchworks to wellness. Women recovering from substance use disorders, other addictions, mental health issues, codependency and/or other life challenges are warmly welcomed. Each meeting will focus on a specific topic introduced with a curated reading and key questions for participants to consider.
About the Facilitator:
Taryn Strong RYT (Registered Yoga Teacher), CPRC (Certified Professional Recovery Coach)
Taryn Strong, the Co-Founder of SHE RECOVERS, is seen as an up-and-coming influencer in the cyber-sober world and on social media. Taryn is a Certified Professional Recovery Coach and the creator of SHE RECOVERS Yoga – a unique, trauma-informed yoga program that integrates yoga and meditation with spirituality and recovery principles from a wide variety of recovery pathways, including but not limited to the 12-step pathway. Taryn is in recovery from trauma, a substance use disorder, codependency, disordered eating and self-injurious behavior. Her recovery patchwork is edgy and  self-directed – yoga, therapy and aromatherapy, plant medicine, moon rituals and ceremonies are just a few healing modalities that she employs.