Wednesdays at 9:00 PM–10:00 PM EST
Moderator/Facilitator: Ester Nicholson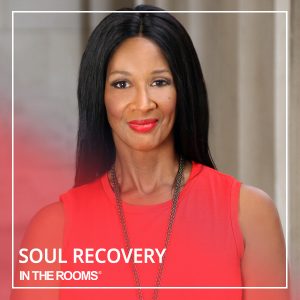 About the Meeting:
The Soul Recovery process is Ester Nicholson's re-integration strategy for an authentic identity that has been emotionally and physically blocked. Its purpose is to heal the "addiction behind the addiction" in order to recover, rediscover and reawaken to one's essential nature of physical, spiritual and emotional wholeness. The practices of Soul Recovery support you in realizing (making-real),  the energy and promise of new life. It wakes you up from the mental lethargy of unworthiness, shame, anxiety and trauma, and catapults you into your authentic and intrinsic nature of empowerment, confidence, deservingness, and safety. Fully consistent with the practice of the 12 Steps, Soul Recovery is the logical next step to create long-term, permanent change in your life. With each weekly lesson, Ester provides step-by-step ways to bridge the gap between 12 Step Recovery and universally-accepted spiritual practices that result in a fully-integrated identity, ready to take on the world. Welcome home – to your true self – where you belong!
About the Facilitator:
Twenty-five years ago, when Ester Nicholson looked in the mirror, she saw a broken young woman–a teenaged mom hopelessly addicted to crack, food, abusive relationships, anything to bury her shame and self-hatred. Today, Ester is an acclaimed healer with a breakthrough spiritual approach to the 12-Step recovery process that's proven more effective because of its integration with empowering divinity-within principals.
With her book Soul Recovery – 12 Keys to Healing Dependence (Visionsound Media) she tells her profoundly inspiring story and systematically reveals the spiritually transforming process she used to liberate herself from crippling addiction. "Our day-to-day dealings are grounded in our root beliefs, and those beliefs are predicated on what I call 'core wounds,'" Ester explains. "The more we can heal those core wounds, the more we can experience wholeness and live a life of purpose and strength."
Ester maintains an impressively expansive career. She is an Agape-licensed, spiritual therapist who for 17 years has studied under Michael Bernard Beckwith, founder of the Agape International Spiritual Center, who is probably most famous for his appearances on Oprah and as a featured "teacher" in the popular book and motion picture, The Secret. She's a motivational speaker who brings her personal experience of 25 years of sobriety coupled with a deep understanding of spiritual practices to audiences around the world. In this capacity, she facilitates workshops and gives inspirational keynote addresses to institutions, companies, and organizations, incorporating concepts from the Soul Recovery process she developed.