Sundays at 9:00-10:00 PM EST
Tuesdays and Wednesdays at 7:00-8:00 PM EST
Saturdays at 1:00-2:00 PM EST
Moderator/Facilitator: Diane S. Thaler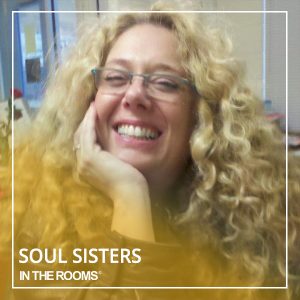 About the Meeting:
Formed in 2013, the Soul Sisters women's recovery group now has over 2,000 members. Women are free to identify themselves as they wish, although in meetings we say, "I am a woman in recovery." We are here to share our experience, strength and hope from a recovery perspective. The only requirements for membership are a desire to be in recovery and identifying as a woman. We are all-inclusive, meaning that all women from all 12-Step programs are welcomed, whether you suffer from food addiction, drugs, alcohol, or any other addictions.
About the Facilitator:
My name is Diane T., and I am a woman in recovery. I suffer from depression, addiction and alcoholism; I belong in Coda; and I will be working on myself until I the day I die. I am an unfinished product.
My Story
My recovery started on Jan. 20, 1990. I entered detox on Jan. 19 in Montgomery General Hospital in Howard County, Maryland. This was when insurance companies paid for rehabs/28-day programs much more readily. This was when Montgomery General had the whole fifth floor dedicated to "us," meaning people in recovery (NA or AA). Now, they have maybe three beds on the psych unit on the sixth floor.
Each patient received certain books on their bed, depending on who they identified with and their drugs of choice. Mine was cocaine, pills, pot, etc., so I received the NA reading material.  For the first couple of years, I only went to NA and CA. Then, in 1992, when I moved out of the Oxford House into my own apartment, I found AA meetings and have never left. (Although my drug of choice was cocaine or anything that revved me up, I knew that I could become a real alcoholic. That is one of my "not-yets" … I drank to get drunk, and I drank to do more cocaine. I did not drink for the taste.  But I don't think that I hit a bottom with alcohol like I did with drugs. However, I do know that when I crave relief from feelings I don't want to feel, I crave to get drunk.)
Let's get back to being in the Oxford House. For some reason, ever since that winter day in '90, I have been taking enough suggestions to keep me on this journey. One of the suggestions was to give up my apartment at Dupont Circle in downtown D.C. and my two cats to go live in a house with 11 other women! Now, remember: this was before cell phones, Cheers was still on TV, and no one had a personal computer except in offices.
So, I lived in this house for two and half years. Can you imagine the phone rules for 12 women? Can you see 12 women, fresh out of rehab, conducting a house meeting? We were all toxic, just coming out of rehab because this was a new Oxford House … no scaffolding yet. The house meetings were at least two to three hours long (an example of being dysfunctional), and we were the blind leading the blind. But, you know what? That house was a good, stable house, and it became my home.
Women in early recovery historically have a hard time with other women. We had to learn how to live together, support one another, pull each other up on our behavior, and be able to detect disruptive behavior, which was indicative of using behavior. (When it walks like a duck and quacks like a duck, it's a duck!) Today, the houses have the luxury of drug testing. But we didn't. If we suspected using or merely using behavior, the woman had 24 hours to get her stuff out and leave immediately while losing her deposit money. OUR sobriety was our priority, and we had to protect it. After a while, it became pretty easy to be able to pick out who was going to last and who was going to eventually get kicked out, because her behavior was obvious. An addict knows an addict.
Oxford Houses are democratically run and only have three basic rules:
Pay your rent on time

No disruptive behavior

No using or drinking
Disruptive behavior ranged from continually slamming the door too loudly at night, to not doing one's chores, to directly getting high. It was up to us to maintain an orderly atmosphere, as well as a sober and clean one.
I cannot tell you how much I learned from that experience. It was one of the best things I have ever done for myself. For one thing, I learned how important women are to my recovery. Two: being accountable is crucial. Three: adhering to rules and structure was paramount. And most important of all….drum roll please…my clothes were softer because I had never known about dryer sheets! We learned from each other, argued, fought, loved, supported, prayed, celebrated holidays together, and more. We taught each other many things, some of which we weren't even aware of until years later – such as, if I can live with 11 other women, all toxic fresh from rehab, I can do anything! Ha!!!
Now, back to today. I found In The Rooms in January of 2012 (or maybe December of 2011, I don't remember). I have not left. These recovery meetings, online, are god-sent and have helped so many, including me. My program has solidified because of the solution I hear in these meetings. I have a core support group on here: friends for life. They are precious to me and in some ways they know me more than some people in my face-to-face meetings. There is an intimacy in these online meetings that I can't explain, but it's there.
I have been the AA business group chairperson and I continue to chair meetings, but what I was missing was a women's only meeting. Women in recovery tend to have special issues that men don't. We needed a safe place to share, connect, and bond. So I decided to start a women's meeting and group. The meeting is called Soul Sisters and we have a group on ITR called Soul Sisters … both are closed. You may come to the meeting if you are a woman, and you may join the group if you are a woman. We have four meetings on the schedule as of now.
The Oxford House story in my life is an example of the how and why my recovery solidified in those early years. It was a huge foundation on which I learned a lot about the powerlessness, the serenity prayer, women's friendships, etc. I still have a hard time reaching out for help even after all this time, but if we can, as women, stand together in recovery no matter what fellowship you belong to, we can thrive and become stronger.
Join us on Sundays at 9:00 PM EST, Tuesdays at 7:00 PM EST, Wednesdays at 7:00 PM EST, and Saturdays at 1 PM EST!