Sundays at 11:00 AM–12:00 PM EST
Moderator/Facilitator: Kyczy Hawk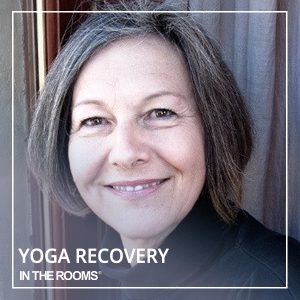 About the Meeting:
Yoga is a healing modality and a system of ethics. It can guide you to relief from mental suffering, and to a way to befriend your body. I believe that, by adding the philosophy of yoga to the practice of recovery principles, we can un-snarl the hidden wounds that prevent us from connecting fully with ourselves and others. This is a discussion meeting with the last ten minutes devoted to a yoga practice: seated movement, meditation or breath awareness.
About the Facilitator: Kyczy Hawk
Kyczy has been in recovery since April 29, 1985, and she has taught recovery-focused yoga classes since 2008. Taking the foundation of a traditional yoga training she received from the Lotus Yoga Teacher Association (of the Himalayan Yoga Institute), she has combined the wisdom and inspiration of other teachers along the way. She later obtained 300 more hours at the JOY of Yoga teacher training with Jennifer Prugh at Breathe Together Los Gatos, CA.
Kyczy is a devoted teacher to people in treatment centers and to those in jail, so much so that she created a teacher-training program for others who wish to work in this field. Trauma sensitivity, the somatics of feeling and relating more wisely to your body are some of the basics taught in S.O.A.R.™ (Success Over Addiction and Relapse). Once on the faculty of the Niroga Institute with B.K. Bose, she later taught at the California Conservation Corps in San Jose and also joined the staff of the Art of Yoga (which meant leading yoga classes for teenage girls in juvenile detention centers in San Jose and San Mateo). A student of Nikki Myers, Kyczy has been leader of Yoga of 12 Step Recovery (Y12SR) classes since 2009. She now teaches Y12SR Leadership trainings on Nikki's staff.
Author of Yoga and the Twelve Step Path, Life in Bite-Sized Morsels and From Burnout to Balance, she continues to submit articles to recovery and yoga-oriented publications. She has recently released a book and workbook through Central Recovery Press: Yogic Tools for Recovery: A Guide To working The Steps. Anyone can find the recorded meditations and poses for free to accompany the book and workbook. For fun and focus, she has also released five word-search and jumble-puzzle books (with Polly Semous) through Amazon.
What Does Kczy Do Now?
She currently teaches at a local treatment center, giving monthly classes at Elmwood Jail. Kyczy continues to present workshops and retreats expanding on her deeper understanding of somatics and other healing practices.
You can  join Kyczy and a host of others in recovery every Sunday morning at 8 AM PST (11 AM EST) on In The Rooms at the Yoga Recovery meeting. Kyczy is very proud of her husband, kids,and grandkids, because they all amaze her in unique and wonderful ways. More about her work can be found at www.yogarecovery.com.