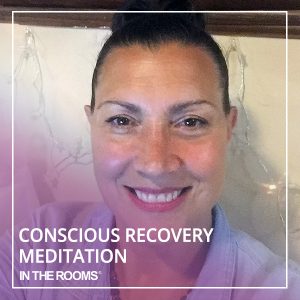 About the Meeting:                                
There is a Conscious Recovery Meditation (CRM) meeting for everyone, from the beginner, to the more adventurous meditator. These meetings are open to all of those in recovery, from alcoholism or an addiction of any kind. An excellent addition to your regular meeting line up, CRM meetings are especially helpful for anyone with accompanying anxiety and depression issues.
CRM meetings offer a safe space for you to practice gratitude, kindness, compassion and unconditional love. These uplifting emotions are the focus of the guided meditations.
Tuesdays at 7:00 AM EST: Beginner's meeting, but open to all, with a 10-minute guided meditation with a focus on self-love and open sharing afterwards
Thursdays at 7:00 AM EST: Open to all meditators, with a 29-minute guided meditation with a focus on unconditional love and open sharing afterwards.
Sundays at 4:00 PM EST: Open to all meditators, will alternate between meditations from 10-29-45 minutes in length with open sharing afterwards.
"When you are bogged down by negative thoughts, words and actions of people, counter it with positive words, thoughts and actions. Countering it with negative will bog you down further. While if you consciously concentrate on being positive, negativity will die by itself. Conscious positivity is the solution in a negative environment." – Mohanji
About the Facilitator:
Laurie has been in recovery from multiple addictions for the last 19 years. In her quest for emotional sobriety while dealing with dual issues of anxiety and suicidal depression, Laurie has tried many different recovery methods. These methods include 12 step recovery groups, professional therapy, prescribed medications, and many other healing modalities. While all have been instrumental in her recovery process and keeping her afloat, it was not until Laurie started adding some new tools of meditation, chanting and breathing techniques that lasting changes in mood and outlook started to occur.
She has now found a special purpose through the Conscious Recovery Meditation meetings in helping and supporting others who suffer from addiction, trauma and depression issues, by introducing them to the tools she uses daily to self-regulate her own emotions which she believes to be critical for living a happy, healthy, life.
Laurie has been a long-time practitioner of many different Yoga styles, Meditation techniques and Healing modalities with a variety of globally known teachers. The inspiration for these meditation meetings came during a teacher training with her current teacher and friend of the universe, Mohanji.  Laurie is a certified Sound Healer, Mai Tri practitioner and a global Mohanji Acharya.
Join us on Sunday at 4:30 PM ET, Tuesdays at 7:00 AM ET, and Thursdays at 7:00 AM ET!