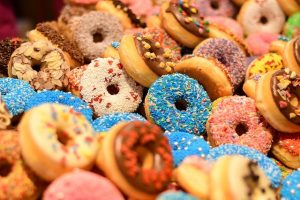 When I was using my idea of a healthy diet was coffee, a donut, crack, heroin, and maybe a McChicken. I know, sounds very well rounded. Forget about exercise or any sort of healthy movement, no daily walk or bike ride, in fact I think the only moving I was doing was to peek out of my blinds. I am not alone in the lack of overall health and wellness perpetrated through my drug addiction, many people become malnourished, vitamin deficient and damage organs and organ tissue. When we are in the throes of our addiction we stop caring about vitamins, the food groups, and a daily dose of sun and exercise.
When I first got sober it was hard for me to begin navigating what health and wellness was. It was like I had to relearn what a healthy meal consisted of, surprisingly not a donut a day. I also suddenly had to convince myself to move around and do things, like yoga, walking, and biking. At first, I wasn't very interested in movement or healthy foods, but luckily the treatment center I was at incorporated nutritional health and physical wellness in my treatment plan.
Learning about food, exercise and drug addiction changed my life and my recovery. I think the things I learned about making better choices and physical activity really helped me understand that recovery wasn't only from drinking and drugging, but it was healing my body and mind.
Through treatment, I was able to learn about healthy meal planning and get back into taking yoga classes, going to the gym, and learning to feel better about myself. It doesn't surprise me that exercise and healthy foods are linked to long term recovery and overall wellness. I also learned that eating extra sugar and drinking too much coffee not only made me crash, but made me feel anxious, and made my drug cravings seem worse. When I made healthy food choices, not only did I feel better physically but mentally they work with anti-depressants, making me feel so much better than I was before. Eating healthy and exercising regularly were two things that I didn't know I was going to get out of going to treatment, but I'm glad I did.