December 5th, 2013 at 3:44pm, the weather man says it's going to be clear and sunny till next Thursday with temperatures in the sixties after today. I finished packing up the bike, grabbed a sausage and biscuit, cup of jo, kiss and hug and hit the road. Thirty nine degrees and cloudy, and the biggest decision for me to make – what route to take to Alabama? Right or left? I choose right toward Highway 10 – the long way.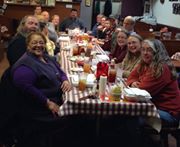 Dragging floorboards on the twisties going up the highway, I knew it was goanna be a good ride. Rolling down 412 East across the Northern hills and valleys of beautiful Northern Arkansas. Small towns, narrow roads, low valleys while running the ridges, twisting the throttle back leaning heavy into the curves. Vance and Hines sung the song of my native people, stopping only for gas and occasional bathroom breaks.
Coming down the hilltops to the flatlands I was running hot, knowing TJ was most likely already waiting for me down at Highway 55. Not sure where this intersection is going to be I look intently for any sign. Up ahead I see an overpass with what I perceive to be a bum standing waiving at the pretty cars, pushing a shopping cart. I am hoping against all odds that this cat is not up to no good. Oh shit – I am close and my eyes finally tell the tale. It's TJ waiving my ass down and the shopping cart is the tops of his bars. Whew, glad I ain't dodging bricks. We roll over to a nearby gas station, exchange a hug and fill the tanks. We begin rolling toward Memphis and the Veterans Resource Centre.
We roll into the motel parking lot without a hitch. Not seeing the need for the elect gear (due to a lying ass weatherman) and subsequent low temperatures, the warmth of the lobby was very welcome. Not having ate or touched my thermos of jo all day it was time to at least break it open. Before I know it I run into long time internet friend Lucy and get a hug for the first time in ten years. Making our way to registration I find another friend. I sure have made a lot of good friends from being on In The Rooms and plugged into Facebook. More hugs, and registration is done. Leaving at 9am and rolling into Memphis at 6:30pm I know I did my best to take the long way, which left me with some great memories of Gods handy work along the way.
We arrived in time for the speaker and good conversation with old friends. Coffee and a meeting don't get much better than that. TJ has our seats picked out right in front of Steve and Louis. What a treat. I finally found a couch in the lobby, ordered some food and exchanged some good conversation with them. Next morning we hit the workshop and heard a friend from India share his experience, strength and hope on living, just for today. Thank you.
Time to roll East. We hit the highway down to 72 East and through Mississippi, passing the world's greatest steakhouse in Corinth – Russell's Beef House. Too bad they were not open. Stopping in Muscle Shoal at the Naches Trace Harley Davidson shop – lil man's (my Grandson) birthday gift is now in hand. I headed over to Ryan's for the infamous Alabama Auburn game where I had the unfortunate experience of watching four grown men cry. I got clean and did a lot of service with Ryan. It has long been a ritual to stop, eat and hit a meeting before rolling on. After a good nights sleep we rolled toward Huntsville, down a long familiar highway. Crossing the Grand Tennessee River, I am reminded of years gone by. The town and surrounding area sure has changed. Along the highways and byways, I find myself going up over the hill looking down into the valley where I grew up. Passing the intersection where I totalled my bike a few blocks from home many moons ago.
Turning down the street a good feeling settles in. Nothing has changed on the block. It's still pretty early so I try and not sing the song of my people too loudly. It's been a long time since I was home. Memories bitter sweet. Mom is awake with the coffee pot going. Warm hugs and hellos exchanged, we settle in for a relaxing day of coffee and conversation. Pete (my step father) finds his way to the living room some hours later looking like Phyllis Diller did his hair. Greeted with a smile and handshake the conversation broadens. My sister Kim arrives for her daily visit to moms. She has been a constant help since mom has had life start to catch up on her. Terry's Pizza for dinner, it's good to see that some things never change. Then bed early in my old room. There is great peace in familiar surroundings.
A hot shower and a good breakfast to start the next day, followed by the Westside Reunion at Gibson's Bar barbeque tonight at 5pm. Coming are my Sister's, Beth and Kim with their tribes, Mom, Peter, and eight dinosaur pack members (some of my original home group members) coming to eat and catch up. When I roll up and get off the bike Eric, my old friend, is walking to the door. Too many memories to share this time. It's a good way to start the night seeing him and getting a hug. It's been a minute. The table is full with food and recovery. The promise of NA Freedom from active addiction and the proof of integration back into society is in full force. Great food and great fellowship. I think Tammy aka Fluffy said it best. "It was with deep gratitude that I sat and watched my old friends last night. We were just kids when we were all brought together, some of us as much as thirty years ago. I loved noticing the ages that we have been graced with and watching the way we all seemed to be slower, bent and grey but still having grateful hearts. I couldn't help but think of all of our brothers and sisters that we've lost over the years, either by passing to the next stage of life or losing them to the hell of addiction. There are no words that could express the feeling."
Amen……
Early morning roll out and a cup of jo to wash down the biscuit. Hugs and kisses goodbye and a call to my friend Jimmy who stayed in town last night after the reunion to ride with me this am. How cool is that. Dreams I never had now coming to life. I met Jimmy when he was in prison for doing things we do when we run and gun. Today he is riding down the road with a smile on his face. This recovery thing just might work. We rolled to Corinth Mississippi before stopping to fill up, trade some hugs, pins and trinkets. No goodbyes just see you next time.
The fog is heavy and the air is cold and damp. Drizzle and heavy dense fog set the tone for the ride home. I have to say while it may not be my favorite riding weather, Waya (Cherokee word for wolf and the name of my bike) loves it.  Rolling out of moms at 7am and rolling into the Hollow (my home) at 7pm, running tank to tank and a little faster than the law allows, it was a great ride home. Nothing beats coming home to the arms of my sugar, the warmth of our home, the sound of the wolves singing, and the comfort of my own bed. God is good, and I am grateful.