Hello and welcome to the first blog from Helios Recovery in 2021. I know it's over a month in, however, I wanted to let you know that things have been pretty full here with Recovery Coach Academy Training.
I wanted thank everyone for continuing to support the weekly Recovery Coach Connection meeting on Mondays. We have had some incredible guests sharing their experiences from the recovery field and the 'in and outs' of being a Recovery Coach. I also celebrated 20 years in long term Recovery on Jan 21st. I had every intention of writing a truly profound and reflective blog for it. Honestly, I was feeling really overwhelmed with anxiety with everything going on that I decided to put my energy in to what was in front of me.
Gratefully, I have awesome friends who are doing amazing things and are willing to be a guest blogger. Caroline Beidler has been a longtime friend and colleague who I initially met through her work with WI Voices for Recovery. She is someone who I consider an authentic voice and representative of Recovery. She has created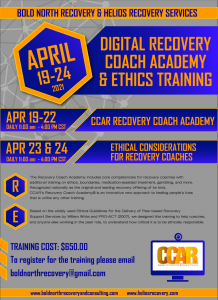 several programs and initiatives that are still happening in WI today and continues to be a support to others through Bright Story Shine.
The next Recovery Coach Academy and Ethical Considerations digital training is taking place April 19-24, 2021. In the Rooms members will receive $50 off the cost by mentioning this blog in your registration email. Feel free to reach out if you have any questions.
– Jesse Heffernan, RCP
Why Is Real Self Love Important For Professionals – And All Of Us?
If you've been in recovery for a while or maybe just popped in to check it out, you may be familiar with the fact that many of us like our sayings and one-liners. One day at a time, first things first, take what you like and leave the rest, are just a couple of my favorites. There are other sayings and phrases that seem to cross over from the "world out there". Some topics and buzz words might be starting to feel a bit cliché or over-used and brought up a lot during meetings. One of those, for me, is the concept of self-love. 
Recently, I started to do a little research on the topic of self-love for my new project called Bright Story Shine . I noticed that there are countless resources and lists by people like me, who are well intentioned but perhaps just a bit out of touch. They talk about 10 ways to love yourself and how taking a warm bath or long walk is meant to trigger an almost otherworldly sense of the feel-goods. I couldn't at all relate to this. One author noted that self-love is much easier said than done. I could relate to that. 
This got me to thinking:
What does loving myself really look like?
A very wise woman said something really interesting when I asked her about the topic. She said that "maybe self-love is more about self-acceptance." Accepting all of your parts—the good along with the ugly." I started to think on this a bit more and how it was true in my own life. I don't think I could look back and say there was an exact moment when I started to love myself.  However, I could look back and say here are all the little moments when I extended grace and acceptance to myself and my experience. 
In my own recovery, my journey to self-love or acceptance came from working my recovery program, one that includes multiple pathways. Over time, I've been able to learn through a growing relationship with God and with other people walking a similar journey. What I had experienced and the things that I had done in active addiction did not make me crazy or bad. It only showed that I was human and that I needed help.
Over the years, other people in or seeking recovery have also shown me that my own life has purpose and value. What is so amazing about this is that the more I was of service in my community, the more I started to believe it myself. My life did have purpose. It did have value. Because of this and just because I was me, I could be loved and accepted (even, and perhaps most importantly) by myself.
Finding the right people.
When I worked in the recovery advocacy field in Wisconsin, I helped create a program called ED2Recovery. This statewide program matches recovery coaches and other recovery professionals with people in the community who are at a pivotal moment in their own lives and seeking help. Recovery coaches have the unique ability to connect with people at this moment in time because, importantly, they can relate.
Recovery coaches are people in, or supportive of, recovery and can connect on a human level. They can offer their own experience and guidance to help someone find other recovery support services, treatment, or on-going recovery coaching. Recovery coaches also have the important role of showing someone that recovery is possible. For my own journey, this was so very important. Along with learning that my life had purpose and value, I needed to see that living without using alcohol or other drugs was not only possible—it was amazing. 
We need to see real self-love in action.
Today, I still need to see other people in recovery who have the kind of life I want to keep. Even after I've strung together a couple of years, I need to believe that it's still out there. Today, on the especially tough days, I still need to see people who afford themselves kindness and humor, acceptance and love and have a humble heart. I need to see that self-love is about more than just taking long baths or walks. It is about learning through recovery that I am loved and extending this love to myself and ultimately to others. 
During the month of February, I'd like to invite us (myself included) to reflect on the concept of love and what this means when we turn it towards ourselves. 
How have we been able to grow into a more loving and accepting relationship with ourselves through recovery? Or do we need to do some more work—or letting go, or reaching out, or asking for help, or looking for a higher power—to get there?
About Caroline:
Caroline Beidler, BA, MSW is a woman in recovery, twin mom, and grateful wifey. She is also a  consultant with Creative Consultation Services, LLC and founder of Bright Story Shine, a new online story-telling platform that celebrates stories of recovery and resilience and highlights topics like faith, addiction, mental health, and trauma recovery. 
Subscribe to my newsletter to stay in touch and learn about free give-a-ways, writing workshops, downloadable content and other awesome free stuff.